Harvesting Coconuts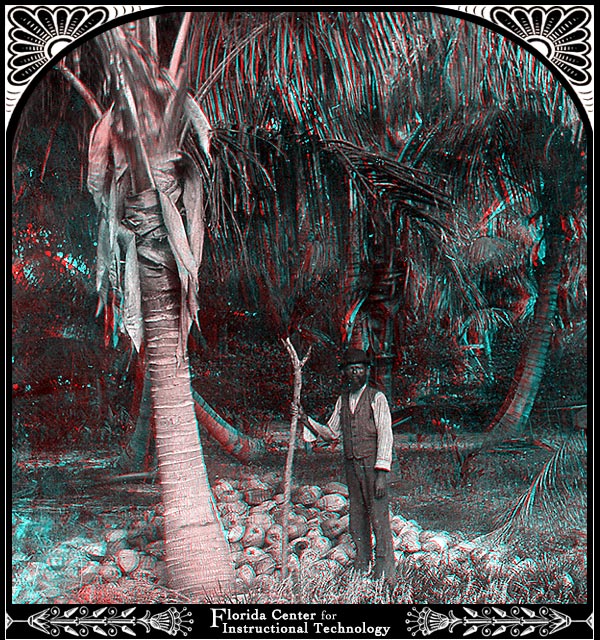 Harvesting cocoanuts, Lake Worth, Fla., USA. Since mankind was shut out from the tree of life, no tree has so nearly taken its place as the cocoanut palm. It literally provides meat and drink, and lodgings and implements, for millions of the human race. The possibilities of its increased cultivation and extended usefulness are incalculable. The English Geographer Purchas wrote truly in his Pilgrimage, three centuries ago: "But of greater admiration is the Coquo tree, being the most profitable tree in the world, of which in the Islands of Maldina they make and furnish whole ships." The Maldives might be called the Cocoanut Islands. The introduction of this most valuable palm into the United States may prove to be an addition to our food products of immense importance. As shredded cocoanut in various forms the nut is an article of luxury with the rich. The poor man needs only to crack the nut on the curbstone to obtain a nourishing meal already prepared. The cultivation of this palm in the United States has not yet passed the experimental stage. There is nowhere reasonable certainty of a crop except in the extreme south of Florida. A good tree will produce 100 nuts a year, and continue to do so for nearly 100 years.
Photographer:

B. L. Lingley

Date:

1893

Publisher & City:

Keystone View Company: Meadville, Pa., New York, NY., Chicago, Ill., London, England

Series & Number:

278
Exploring Florida: Social Studies Resources for Students and Teachers
Produced by the Florida Center for Instructional Technology,
College of Education, University of South Florida © 2008.