Pineapple Field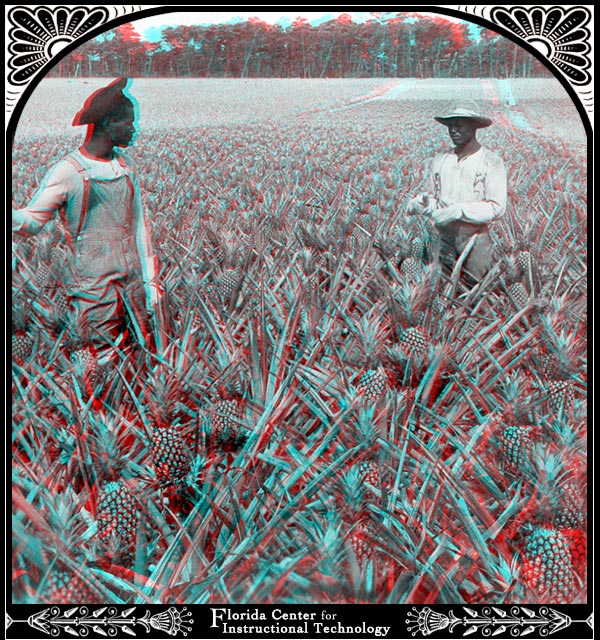 A pineapple field, southern Florida. Did you think that pineapple grew on trees just as other apples do? You see they do not. They grow more like cabbages. Little sprouts or slips come from the roots of the old plants. Instead of sewing seeds these slips are planted. Or sometimes the stiff leaves at the top of the pineapples are used to make the next year's crop. These are set out in rows. By and by long pointed leaves grow from the slips. These are stiff and sharp and prickly. They are green with red tips. The pineapple grows in the middle of these leaves. It is red and yellow. Look at the picture and think how pretty this big field must be. It is harder work to cut pineapples than to pick apples. The saw-like leaves tear one's clothes and cut one. The men who go into the fields wear on their hands heavy canvas gloves or mittens. Some wind strips of carpet about their legs. With one hand they take hold of the stiff leaves at the top of the fruit. With the other hand they cut the stem just under the pineapple. The queer knives they use are short, sharp and hooked. They drop the pineapples into bags. These bags are swung across their shoulders and hang open under one arm. Then the fruit is put in crates and shipped away.
Photographer:

Unknown

Date:

Unknown

Publisher & City:

Keystone View Company: Meadville, Pa., New York, NY., Chicago, Ill., London, England

Series & Number:

13738
Exploring Florida: Social Studies Resources for Students and Teachers
Produced by the Florida Center for Instructional Technology,
College of Education, University of South Florida © 2008.