Central Ave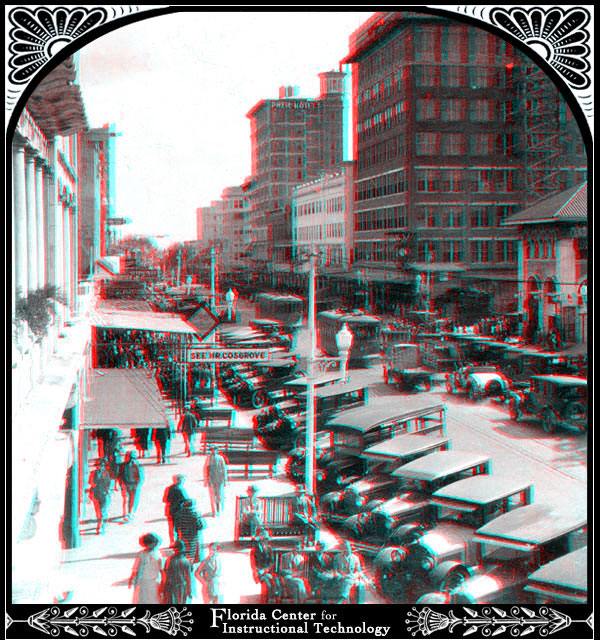 A winter day on Central Ave—Enjoying the green benches of St. Petersburg, Fla. Essentially a tourist resort, St. Petersburg, "The Sunshine City," stands on the peninsula formed by Old Tampa Bay and the Gulf of Mexico. It extends clear across this peninsula from Tampa Bay on the east to Boca Ciega Bay on the west. It is a city of homes, the grounds bright with hibiscus and poinsettia, clean, wide streets, numerous playgrounds and large resort hotels. Among its many unique institutions is an open-air postoffice, the only one on the American continent. The famous green benches which line the wide sidewalks of the main business thoroughfare are utilized during the winter months by visitors that come from the four corners of the earth.
St. Petersburg with its two main waterfronts and its highway bridges across Boca Ciega Bay to Long Key—with its splendid bathing beaches on the Gulf—has within its boundaries some of the most interesting waterfront developments to be found in Florida. The residential districts with magnificent homes of the Spanish style of architecture give St. Petersburg a ranking among the most beautiful of Florida's cities. The sunshine is so constant in St. Petersburg that a leading daily newspaper gives away its entire edition on any day when the palm trees cast no shadow. This has happened less than a score of times during a period of years. So the slogan, "The Sunshine City," is a reasonable one. This whole region of the west coast is a fisherman's paradise. The warm waters of the Gulf fairly teem with aquatic life. Tarpon, king fish and other members of the finny tribe here supply sufficient thrills to satisfy any discipline of Isaac Walton.
Photographer:

Unknown

Date:

Publisher & City:

Meadville, Pa.: Keystone View Commpany

Series & Number:

26703
Exploring Florida: Social Studies Resources for Students and Teachers
Produced by the Florida Center for Instructional Technology,
College of Education, University of South Florida © 2008.