Dedication
---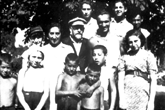 As far as I can recall, there was only one picture on the walls of my parents' flat in postwar Warsaw--a picture of Janusz Korczak. As children, my brothers and I thought that he was a kind of nice grandfather with warm, smiling eyes. Many in our generation, our family included, had no grandparents alive. They had all been murdered during the Holocaust and no pictures of them were left.

Early on, we understood that our father was quite heavily influenced by this man we thought was our grandfather. As we grew older, we began to understand why when our father, Mischa Wasserman Wroblewski, told us stories about Korczak and the time he spent working at the Korczak orphanage in Warsaw. The last story was about how our father was saved from deportation to Treblinka due to some work that Korczak had arranged for my father and some older boys. My father and the boys left the orphanage early on a warm morning on August 5th, 1942. When they returned in the evening with some food and money, the orphanage was open and empty. My father collected Korczak's personal belongings in a suitcase and left.

Romuald (one of three sons) and Daniel (one of nine grandchildren) to Mischa.
---