In March 1938, as part of Hitler's quest for uniting all German-speaking people and for Lebensraum, Germany took over Austria without bloodshed. The Anschluss

occurred with the overwhelming approval of the Austrian people. No countries protested this violation of the Treaty of Versailles.

In September 1938, Hitler eyed the northwestern area of Czechoslovakia, called the Sudetenland

, which had three million German-speaking citizens. Hitler did not want to march into the Sudetenland until he was certain that France and Britain would not intervene. First, he met with British Prime Minister Neville Chamberlain and threatened to go to war if he did not receive the territory. Then at the Munich Conference, Hitler prevailed upon Britain, France and, Italy to agree to the cession of the Sudetenland. The Western powers chose appeasement rather than military confrontation. Germany occupied the Sudetenland on October 15, 1938.
These photographs show the German annexation of the Sudetenland.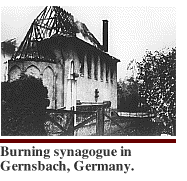 In Germany, open antisemitism became increasingly accepted, climaxing in the "Night of Broken Glass" (Kristallnacht) on November 9, 1938. Propaganda Minister Joseph Goebbels initiated this free-for-all against the Jews, during which nearly 1,000 synagogues were set on fire and 76 were destroyed. More than 7,000 Jewish businesses and homes were looted, about one hundred Jews were killed and as many as 30,000 Jews were arrested and sent to concentration camps to be tormented, many for months. Within days, the Nazis forced the Jews to transfer their businesses to Aryan hands and expelled all Jewish pupils from public schools. With brazen arrogance, the Nazis further persecuted the Jews by forcing them to pay for the damages of Kristallnacht

.

This Nazi order instigated Kristallnacht "measures."

This gallery shows the desecration of synagogues, some of which were damaged during Kristallnacht.

Movie clip documenting the violence of Kristallnacht.
An extended article on Kristallnacht including an introduction, fact sheet, personal profiles, documents, eyewitness accounts, and an epilogue.