Celery Crop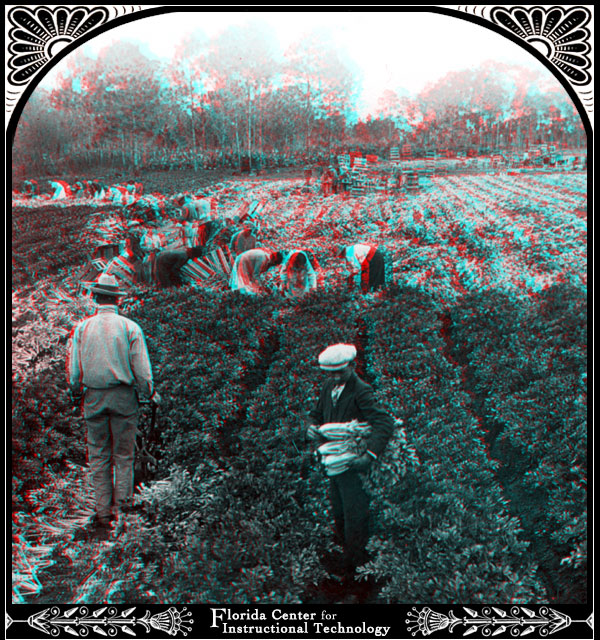 Cutting and packing winter crop of celery at Bradenton, Florida. Florida leads all states in the production of celery, California and New York coming second and third in order. There are two important celery centers in the state. One is at Sanford and the other at Bradenton. It is an expensive crop to produce. The best grade of seed costs as much as $35.00 a pound. Irrigation, fertilization and cultivation must have careful attention. It requires six months to produce a crop, and in certain sections where rich vegetable mold from old lakes or waterways is accessible enormous profits are realized. Instances are common where the net profit is as much as $1,000.00 to 1,500.00 per acre. This has caused celery to be known as a bonanza crop. A good crop yield runs about 700 crates to the acre, each crate containing from three to six dozen stalks. There are two ways of marketing celery. The shorter and less expensive process where the celery is to be used locally involves only crating right in the field. When the celery is to be shipped, the pre-cooling plan is followed. The stalks are washed in very cold water, graded and passed through a sprinkling of ice cold water and immediately loaded into refrigerator cars and dispatched to the distant markets. Celery shipments begin the middle of January and continue up until the middle of May. The peak of the harvest comes in March, when the daily output reaches hundreds of cars. It is at this time of the year that top prices are commanded in the Northern market.
Photographer:

Unknown

Date:

Unknown

Publisher & City:

Keystone View Company: Meadville, Pa., New York, NY., Chicago, Ill., London, England

Series & Number:

26713
Exploring Florida: Social Studies Resources for Students and Teachers
Produced by the Florida Center for Instructional Technology,
College of Education, University of South Florida © 2008.