Crocodiles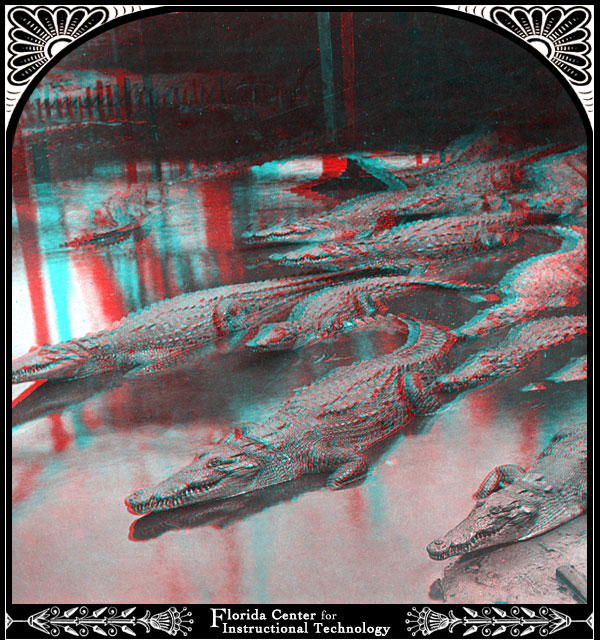 Crocodiles, Palm Beach, Florida. You must not go in swimming where such creatures live. Look at their teeth and you will know why. These crocodiles are kept where people can see them. But there are a few wild ones that live in Florida. They are sometimes hunted because they are dangerous. They are sometimes killed by Indians for their skins. Leather is made from the skins. Crocodiles live on the shore of some water. They are not fish, but they can swim. They can stay underwater a long time without breathing. But after a while they must put their pointed noses up into air to take a breath. They live in warm countries and like to sun themselves on the hot sand. Baby crocodiles come from eggs about as large as a turkey's. These are laid on the shore and covered with sand or mud. The sun makes them hatch. When the little crocodiles are hatched, they go into the water. Their mother does not take care of them. If they grow up they may be nine or ten feet long. They may live to be one hundred years old. Crocodiles eat meat and fish. They snap with their strong jaws any animal or fish that comes too near. Both jaws are hinged and both can be moved up and down. Your lower jaw is hinged, your upper is not. Try it and see.
Photographer:

Unknown

Date:

Unknown

Publisher & City:

Keystone View Company: Meadville, Pa., New York, N.Y., Chicago, Ill., London, England.

Series & Number:

None
Scan courtesy of The Florida State Archives, Tallahassee, Florida. Image retouched and converted to anaglyph in 2005 by the Florida Center for Instructional Technology at the University of South Florida, Tampa, Florida. View this image using 3D glasses with the blue lens over the left eye and the red lens over the right eye.
Exploring Florida: Social Studies Resources for Students and Teachers
Produced by the Florida Center for Instructional Technology,
College of Education, University of South Florida © 2008.