Seminole Indians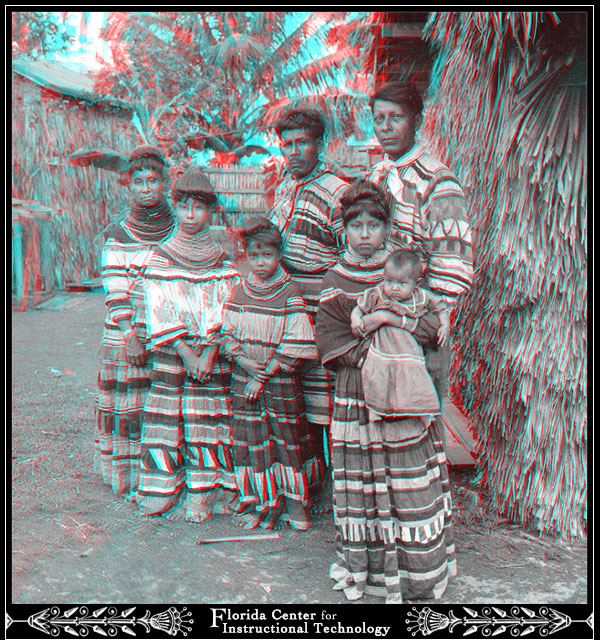 Seminole Indians whose forefathers inhabited the Everglades- Miami, Florida. Florida, centuries ago, before the coming of the white man, was a haven for the Indians. Hunting and fishing, they roamed over the state. Periodically they gathered for a carnival. On such occasions canoe races and aquatic sports were featured. The Seminoles are not native to Florida. The Indians encountered in Florida by the early Spanish and French had the appearance of the Aztecs of Yucatan and had a high degree of culture. They were exterminated by the Creeks about the middle of the eighteenth century. These conquering Creeks came from the Mississippi Valley and took the name of the Seminoles. They became recognized as a distinct tribe about the time of the beginning of the Revolutionary War. There are now less than a thousand Indians in Florida. These are the descendants of the Indians who withdrew to the Everglades out of reach of the white man when the rest of the tribe was deported to Oklahoma. Those who remained have no title to Florida land. Those sent to Oklahoma, known as the Creek Nation, are now among the wealthiest people of the world. Oil was discovered on the land allotted to them by the government. Since the Everglades are being drained, the government has taken steps to secure reservations for the Seminoles remaining in Florida.
Photographer:

Unknown

Date:

Unknown

Publisher & City:

Keystone View Company: Meadville, Pa., New York, NY., Chicago, Ill., London, England

Series & Number:

26845
Exploring Florida: Social Studies Resources for Students and Teachers
Produced by the Florida Center for Instructional Technology,
College of Education, University of South Florida © 2008.