Ormond-Daytona Race Track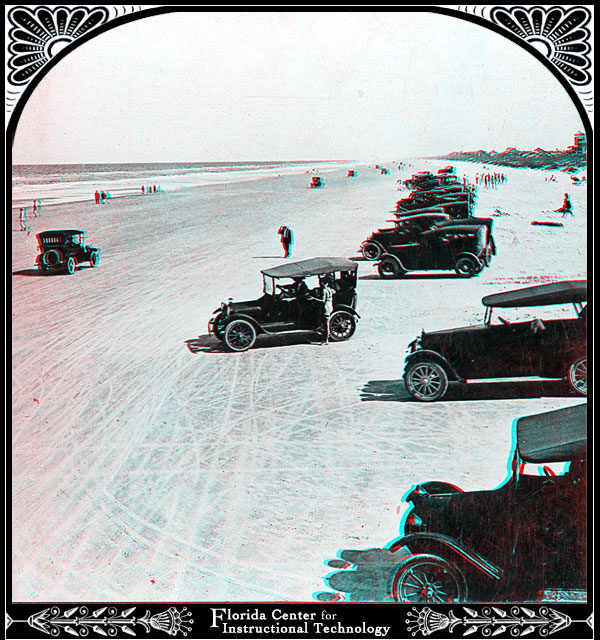 The world's finest race track- Ormond-Daytona Beach, Florida. The Ormond-Daytona race track is between Ormond and Daytona, about fifty-five miles south of St. Augustine, Florida. The first motor carriage dates from 1770, when a Frenchman named Cugnot began work under the auspices of the Government. He constructed a steam carriage for heavy draught work which is still preserved in the Conservatoire des Arts Metiers, Paris. Two steam carriages were constructed and operated in London in 1788, and in 1803 a steam carriage was run on the highway in and about London. The work was persecuted with great ingenuity in England until 1834, when a feeling of prejudice was aroused, chiefly by the railroads. The result of this was the passage of a Parliamentay act which imposed such onerous conditions on the operation of these carriages that it practically prohibited their use. Work was revived in France and Germany in 1860 by the improvements in the gasoline engine. From 1896 until the present day this business has steadily increased to such an extent that motor cars are rapidly supplanting the horse. No single factor has done more to build up the industry than the improvement of the country roads. The automobile is no longer solely the property of the city man; it has become the farmer's truck wagon and pleasure carriage. This race coursee on the bech is made and leveled with the aid of anture every twenty-four hours. This unique automobile course is the fastest a nd safest in the world. Races were held on it from 1902 until 1907 and several of the world's records wer made during that time. W.K Vanderbilt Jr., Louis Ross of Boston and Victor Demogoet all made and broke records on this track. Latitude 29 degrees North, Longitude 81 degrees West.
Photographer:

Unknown

Date:

Unknown

Publisher & City:

Keystone View Company: Meadville, Pa., New York, NY., Chicago, Ill., London, England

Series & Number:

23237
Exploring Florida: Social Studies Resources for Students and Teachers
Produced by the Florida Center for Instructional Technology,
College of Education, University of South Florida © 2008.