Swanee River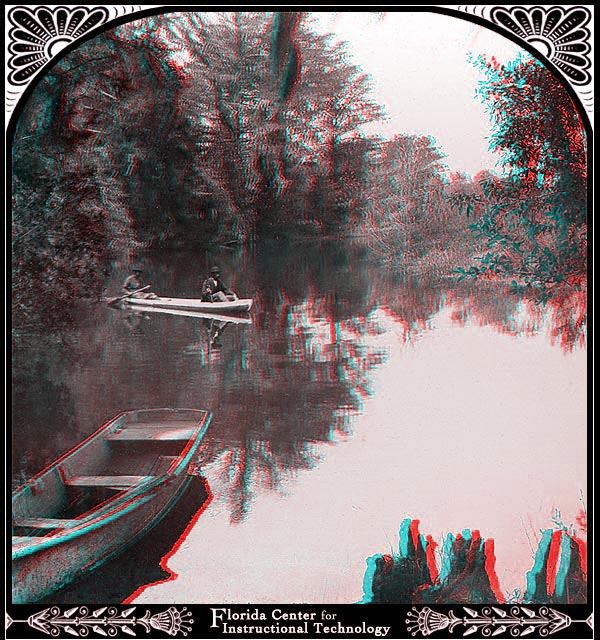 "Way down upon the Swanee River," Florida. The Suwanee River, a peaceful little stream flowing indolently through the swamps of Florida, is probably the most famous of American rivers. It was made so largely by the old song, "Way Down Upon the Swanee River," written by one of America's most loved song writers, Stephen Foster. The popularity of this song has made Foster one of Florida's greatest press agents. Visitors travel hundreds of miles to see this famous stream. Florida visitors find few more interesting scenes than a grove of live oaks in their drapery of Spanish moss. There is such a grove on the banks of this romantic river. It is known as the "Old Town Hammock," covers several hundred acres and is worth going many miles to see. It is typical of the forest primeval in Florida. Under these very trees, some of them at least 500 years of age, the early inhabitants of Florida may have gathered to hold counsel. The Seminole Creeks must frequently have camped here when on hunting or fishing expeditions. In the shade of these giants, Spanish explorers perhaps stopped for rest and refreshment. West of the Suwanee River great orchards of Satsuma oranges have sprung up, becoming the leading citrus crop of the section. The industry has become so well known that the section has adopted the name of "Satsumaland." The Satsuma orange is considered by many to be the sweetest and juiciest of any citrus fruit grown. It comes into the market the earliest of all oranges and commands a good price and gives large yields. The acreage of Satsumas is steadily increasing.
Photographer:

Unknown

Date:

Unknown

Publisher & City:

Keystone View Company: Meadville, Pa., New York, NY., Chicago, Ill., London, England

Series & Number:

29092
Exploring Florida: Social Studies Resources for Students and Teachers
Produced by the Florida Center for Instructional Technology,
College of Education, University of South Florida © 2008.