Banyan Tree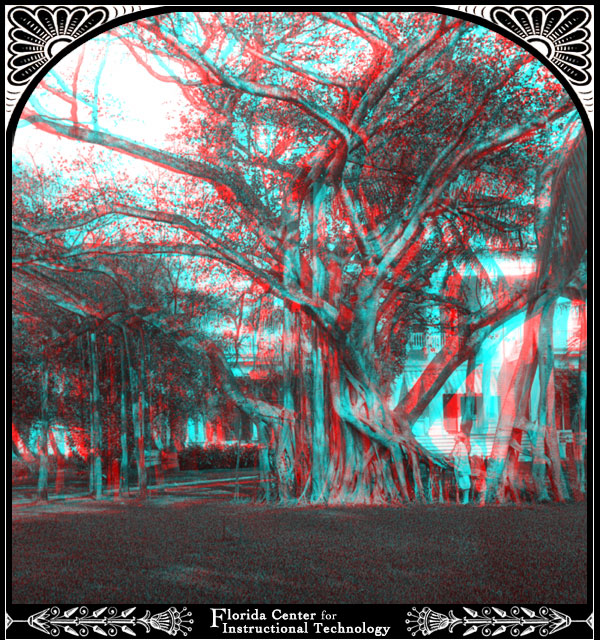 The oddly formed Banyan Tree as it grows in Florida- Palm Beach. There are all kinds of plants and trees in the world, just as there are all kinds of people. The banyan has characteristics peculiar to itself. It is a native of India but grows well in Florida where the climate is similar. The banyan rarely starts on the ground, but its life begins possibly in the crown of a palm tree where the seed may have been carried by a bird. Here it grows until it embraces and finally kills the palm. Small roots come from the branches at regular intervals. These grow downward to the ground and attach themselves to the soil, take food direct from it and thus form new trunk or prop. In this way numerous trunks are formed. As the tree advances in age and size it finally breaks apart, forming separate trees. The old tree decays and the new divisions become, in turn, new centers for additional trees. The name "banyan" means merchant and is so given because the native Indian merchants spread their wares in the shade of these trees. The wood of the banyan is light and is of no commerical value. The Hindus use its glutinous sap for medicinal purposes. A gum is also derived from it. The tree is generally introduced into new countries for ornamental purposes or as curiosity.
Photographer:

Unknown

Date:

Unknown

Publisher & City:

Keystone View Company: Meadville, Pa., New York, NY., Chicago, Ill., London, England

Series & Number:

26856
Exploring Florida: Social Studies Resources for Students and Teachers
Produced by the Florida Center for Instructional Technology,
College of Education, University of South Florida © 2008.