The September update of TIM Tools will include a new tool: the TIM-C.
Many of our current clients have been using data from one or more of the TIM Tools to support their coaching programs, while documenting coaching cycles within spreadsheets or other tools that weren't quite meeting their needs. Therefore we wanted to provide the ability to record coaching cycles within the TIM Tools suite so that districts don't have to move data between TIM Tools and a separate coaching system. The new TIM-C will allow any member to enter into a coaching relationship with any other member for a defined coaching cycle. One member is designated as the coach and the other member is designated as the client. Either the coach or the client can initiate a cycle and select the person with whom they will be working.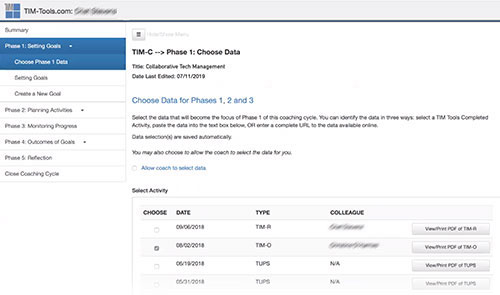 Once both members have joined the coaching cycle, the TIM-C will lead them through a structured process and keep a record of the goals, activities, progress, and outcomes of the coaching cycle. In the goal-setting phase, the client (most often a teacher) can select a previous TUPS, TIM-O, TIM-R, or TIM-LP as the data source. The same choices are available for documenting the outcomes of the coaching cycle. If desired, the teacher may also enter other types of data directly or link to external data rather than reference another TIM Tool activity.
We will share more in-depth information in the coming months, but wanted to give you a quick preview and answer a few basic questions about the new coaching tool.
Can I use this with any coaching model?
TIM-C is model-agnostic. Rather than dictating one particular model or philosophy, the TIM-C provides a means to support and record a coaching cycle based on just about any model. At its most basic level, the TIM-C supports a structured conversation between a client and a coach, or between a mentor and a mentee. It provides a collaborative framework for the two partners to set goals, plan activities, monitor progress, record outcomes, and reflect upon the cycle.
In short, the TIM-C is not the coaching itself, but rather the means to keep a coaching cycle focused and moving along, as well as to document the process.
Can I use the TIM-C for mentoring?
Yes. Many schools and districts follow a mentoring model, and the TIM-C was designed to allow for facilitating and recording the process and outcomes of either a mentoring or coaching approach.
Our district's coaching cycles are data-driven. What sorts of data can be imported into a TIM-C coaching cycle?
Users have two opportunities to select data—once as a part of goal-setting and then again when reviewing outcomes. In both cases, teachers (clients) have three choices for data sources:
Data can be pasted into a text field.
A URL pointing to the data can be entered.
A completed TIM Tools activity can be selected. This includes either a TUPS, TIM-O, TIM-LP, or TIM-R. A PDF of the completed activity is then automaticallly imported into the coaching cycle and then available to both the teacher and the coach. For example, a teacher might select a TIM-R to inform the goal-setting phase and a TIM-O to inform the outcomes phase. The TIM-C respects the privacy of the teacher. Teachers can review their own previous TIM Tools activities (all within the TIM-C) and choose which to share with the coach. By default, the coach does not have access to the teacher's previous TIM Tools activity records unless the teacher specifically checks a box allowing the coach to view and select the teacher's previous TUPS, TIM-O, TIM-R, or TIM-LP records.
Our district does not have designated coaches. Can the TIM-C be used for peer coaching?
Any member in a TIM Tools instance can be designated as either the teacher or the coach for the purposes of a coaching cycle. So yes, a classroom teacher in the system can function as a coach for a peer during a particular coaching cycle. Later, in another cycle, those roles could be reversed, if desired.
Can the TIM-C be used for self-coaching?
While a self-coached cycle doesn't have the collaborative and external perspective benefits of a coaching cycle between two people, it can be a highly valuable process for a teacher's ongoing growth. To support this use, the TIM-C alows you to select the same person as both client and coach. Self-coaching with TIM-C can help an individual stay on track with the process and, in fact, can go a long way toward supporting the teacher's reflective conversation. Since a teacher using the TIM-C for self-coaching will be completing both the client and coach sections, the tool helps the teacher to more objectively move through the coaching cycle.
Also, you should keep in mind that when self-coaching spills over into action research, the ARTI (Action Research for Technology Integration) tool is also available within the TIM Tools suite as an additional support.
Is there an extra fee for using the TIM-C?
No! This new tool will be added as a part of the TIM Tools suite and is included in your TIM Tools license at no additional cost. As always, you can individually turn on or off access to any of the tools within the suite as you are ready to use them.
We hope this preview was helpful! In a coming newsletter, we'll include a longer post explaining the phases of the TIM-C coaching cycle, but this month we at least wanted to let TIM Tools clients (and potential clients!) know that a new tool will soon be added to the suite. We will also update the Admin Guide to include the TIM-C. We are excited to provide this new tool to support your coaching and mentoring efforts!
Is there an iTeach course for the TIM-C?
Yes. This course provides an introduction to the TIM-C and coaching cycles, goal setting, planning and monitoring coaching activities, recording outcomes, and reflecting on the process. Regardless of the coaching model being used, the TIM-C can support consistent, guided, reflective practice across a school or district. Register for TIMT-150: Coaching and Mentoring with the TIM-C from the iTeach catalog.
Do you have a TIM-C question we haven't answered? Shoot us an email at TIM@fcit.us.
Christine Harmes is a consultant on research, measurement, and evaluation, and an ICF-certified coach. Her research interests focus on improving teacher use of technology, computer-based testing and usability. At the Florida Center for Instructional Technology at the University of South Florida, Dr. Harmes focuses on research and tool development related to technology integration.
FCIT Newsletter
Each month FCIT publishes a newsletter with short articles on teaching and learning with technology, using digital content in the classroom, and technology integration. Subscribe today! The subscription form will open in a new window. When you have subscribed, you can close the new window to return to this page. You can also submit stories about TIM and TIM Tool use in your classroom, school, or district.