As a result of the Covid-19 pandemic, schools have access to unprecedented funding. The latest federal relief bill alone, the American Rescue Plan, allotted $122 billion to be used for education over the next few years. This is a once in a lifetime opportunity for many schools to bring their technology into the 21st Century. Over the past 100 years, schools have implemented numerous instructional technologies. We now have an opportunity to create intentional change that can have an historic and significant impact on our education system. With ample funding and a year of distance learning experience, schools are uniquely poised to make some impactful changes and the Technology Integration Matrix (TIM) Tools can help provide the framework for success.
Recent research has found that US schools are spending billions per year in educational technology including software subscriptions, networks and devices, assessments, and professional development. However, research also shows that the majority of that spending is going to waste because the technology is never used to its full potential.
A conservative estimate is that American schools spend $25 – $42 billion dollars on education technology each year. (Tate, 2021) Further research suggests that on average 67% of educational software purchased is never used. In some cases the number was as high as 90%. (GlimpseK12, 2019)
Schools currently have funding, and they know that technology is integral to student success. The conundrum, however, is how to spend the money wisely and in a way that POSITIVELY impacts student learning. Technology is often purchased without an express implementation plan. There is no plan for training or teacher and student support on the technology, but more importantly, on the pedagogy. We cannot keep teaching the same way we have taught for over 100 years. Technology is a tool that enables us to change the way we educate our students. Now is the time to shift the focus from lower-order thinking to higher-order thinking, from teacher led to student driven, from passive to active and constructive. The (TIM) Tools provide the framework to assist schools in evaluating and making informed decisions on ed tech spending and, ultimately, how the integration of educational technology impacts education.
Technology Uses and Perceptions Survey (TUPS)
As consultants, we begin with the Technology Uses and Perceptions Survey (TUPS). We administer this survey to teachers every year at about this time. The survey takes approximately 20 minutes to complete. It is important to note to the teachers that this is not an evaluation of their performance or how well they use technology. We take the data from the TUPS and use it to establish baseline data, inform technology purchase decisions, identify professional development needs, and facilitate coaching in the use of instructional technology. For more information on how the TUPS can be used year after year to identify needs/gaps, set goals, and show effective use of funds, please refer to A Framework for Growth: A Story of TIM Implementation in Graphs or the presentation I did for FCIT, Graphing Growth: TIM Tools in Action.
TIM-Observation and Coaching Tools

Once we analyze the TUPS data, we use the TIM-O and TIM-C tools to set goals and support teachers in achieving these goals. This is a critical missing link in ed tech spending.
"There's no point buying something that you aren't going to implement properly. Too many schools think the cost of training and professional development and support are optional," Bart Epstein, CEO of the Edtech Evidence Exchange and a research associate professor at the University of Virginia School of Education and Human Development. (Tate, 2021).
We would even go a step further and suggest that one-on-one coaching is the most effective form of professional development with the best chance of changing behavior and implementing new skills long-term.
We use our analysis of the TUPS data to create school-wide technology integration goals and tie those goals to instructional materials (such as a software subscription or a device). Using the TIM-C coaching tools, we work with each teacher to set individual goals and create a coaching plan to help them achieve those goals.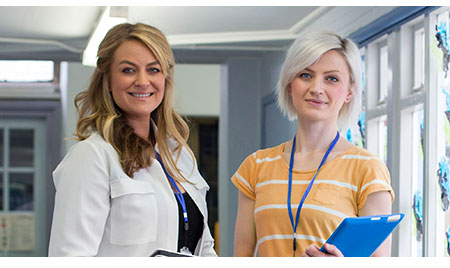 To complement the TIM-C coaching tools, we also use the TIM-O tool with the teachers. The TIM-O is a lesson observation tool that creates a profile of technology integration levels for a specific lesson. The object of the observation is always the lesson, not the teacher. We aren't in the business of grading or scoring teachers! In fact, when working with teachers, I often ask them to pick a lesson they struggle with the most—not their "best" lesson. Then, we work together, integrating technology into the lesson, to truly transform not only the lesson, but how the students learn. As teachers trust and see the benefits of TIM observations and coaching, we can then start to develop coach/mentor teachers who can also assist with coaching and observations. We always give the teachers the opportunity to choose their coach/observer. It is imperative to the success of the program that the teachers feel safe and supported throughout the process.
As outside consultants, we are in a unique position. We are not the teacher's supervisors or peers, so we can more easily establish a rapport of support and assistance without the (unspoken) fear of judgement. We work with the teachers so they are familiar with lesson observations using the TIM-O and realize that the purpose is to generate a lesson profile that leads to good, productive conversations about how to better utilize technology to achieve higher-order thinking and student success. Once that groundwork has been laid, teachers will be more comfortable later when their lessons are observed by school administrators, staff, or peer teachers.
Possibly the best feature of the TIM-Observation tools is the reporting and data that come out of it. In the figure below, you will see a summary comparison from year one to year two of TIM observations. This data can be used on a number of levels: to justify spending, to encourage teachers of their growth, and to set new goals.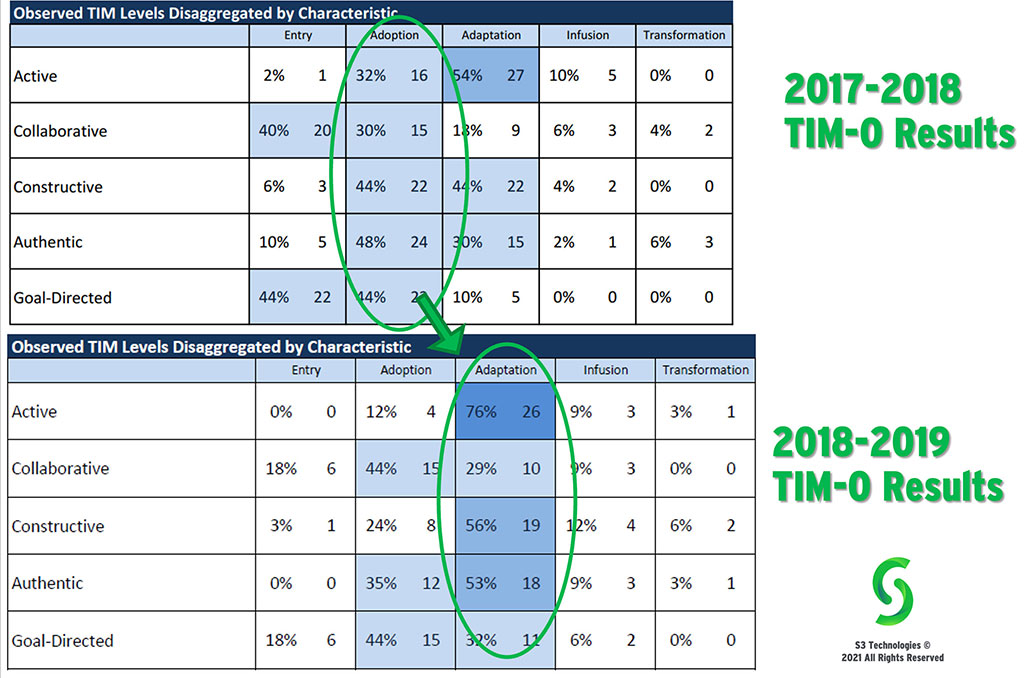 This is an exciting time in education history. We have the funding to make significant, lasting changes to education. We have the wisdom and skills we have gained from the last year of trying to keep our students engaged and learning. We know that technology is not just another thing we need to teach. Rather, it's an essential tool we need to propel education forward. The TIM provides the roadmap on how to integrate technology so that technology is as integral to student success as the teacher, textbook, and whiteboard always have been. We can't keep thinking of things the same way, and it all begins with pedagogy. The hardest step is the first step, and we were forced to leap, rather than step, due to the pandemic. Let's not lose momentum, but keep moving forward.
References

Tricia Dirker is the Director of Education Technology at S3 Technologies and remains a Board-certified Teacher. At S3, we understand the unique usage and needs for technology in a school and understand that technology is a differentiated means to foster engaged, individualized, and student-driven learning. We want our education partners (administration, teachers, and students) to succeed, so we work alongside you to leverage existing technology to increase student engagement, creativity, and boundless learning. We will help you identify future technology needs and help you develop an economical and practical solution to meet those needs. We work closely with schools and are familiar with their unique budgeting and funding situations. We are invested in forming a partnership with the schools we support. We pride ourselves on bringing value to our partners, our education system, our children, and our future. Connect with us at tdirker@mys3tech.com, www.mys3tech.com, or @S3EdTech.
FCIT Newsletter
Each month FCIT publishes a newsletter with short articles on teaching and learning with technology, using digital content in the classroom, and technology integration. Subscribe today! The subscription form will open in a new window. When you have subscribed, you can close the new window to return to this page. You can also submit stories about TIM and TIM Tool use in your classroom, school, or district.