Green Turtles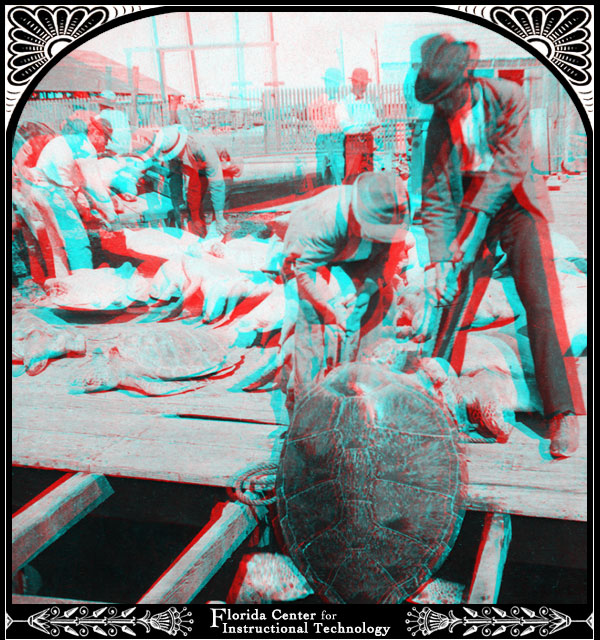 Shipping Green Turtle, Key West, Fla., USA. If you lived in Key West you might find a nest with more than one hundred eggs in it. What kind of nest? A green turtle's. These great turtles live in the ocean. They sometimes weigh more than a large pony. They do not lay their eggs in the water as fishes do. Instead they come upon the sand. Some night the mother turtle swims near shore. She puts her head out of the water. If she sees no danger she crawls upon the sand. She cannot walk very well. Her feet are not feet at all, but flippers. They are better for swimming than for walking. She finds a place that suits her. With her hind flippers she scrapes a hole sometimes two feet deep. There she lays her eggs. She cannot sit upon them like a bird. Her shell is too hard. She cannot come out of it. It is fastened to her. So she covers her eggs and lets the warm sand hatch them. When these turtles are laying, men catch them. They turn them on their backs. The turtles cannot roll over. They must stay until the men come for them. Here is the turtle dock in Key West where the men take the turtles. From here they are shipped to different cities to be eaten. People like the flesh very much.
Photographer:

Unknown

Date:

Unknown

Publisher & City:

Keystone View Company: Meadville, Pa., New York, NY., Chicago, Ill., London, England

Series & Number:

9142
Exploring Florida: Social Studies Resources for Students and Teachers
Produced by the Florida Center for Instructional Technology,
College of Education, University of South Florida © 2008.