Sponges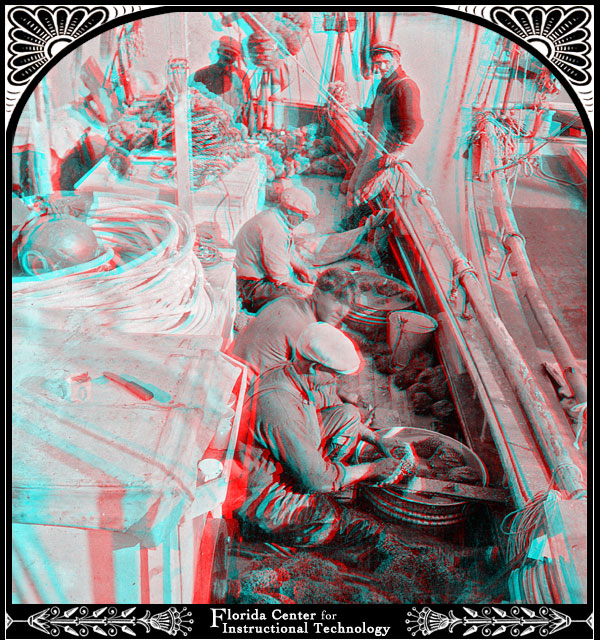 Washing sponges on the deck of a sponge boat, Tarpon Springs, Fla. When you see a sponge in a store it is difficult to realize that it is the skeleton of an animal. It looks much like aplant but it is one of the lowest forms of animal life. It cannot swim, but grows attached to a rock or the sea bottom. When sponges are alive they are not all brown. They may be red, green, yellow, blue or purple. They live in nearly all climates but grow best in tropical waters. Sometimes sponges are as large as a bushel basket and weigh fifty or sixty pounds. Most of the sponge fishing of the United States is done in the Gulf of Mexico. The fisherman are Greeks from the Mediterranean Sea. They fearlessly sail as far as two hundred miles out to sea in their small sailboats and remain for weeks at a time. Out at sea some of the crew put on divers' suits and descend to the sea bottom. They work there two or three hours at a time. Men on the boats pump air to the divers through long pieces of hose. On the deck of the boat you can see the rubber hose and also a diver's helmet. When the sponges are brought to the surface they are spread on teh deck until the fleshy part of the animals decays. The boat in this picture has just returned from a trip. The crew is busy washing all the remaining animal matter and dirt out of the sponges. When they are thoroughly clean and dry they are ready for market. In what foreign seas are there valuable sponge fisheries? Why do divers wear shoes which have heavy lead soles? Why are their helmets of steel or brass? How far under water can they descend in safety?
Photographer:

Unknown

Date:

Unknown

Publisher & City:

Keystone View Company: Meadville, Pa., New York, NY., Chicago, Ill., London, England

Series & Number:

9175
Exploring Florida: Social Studies Resources for Students and Teachers
Produced by the Florida Center for Instructional Technology,
College of Education, University of South Florida © 2008.