Orange Grove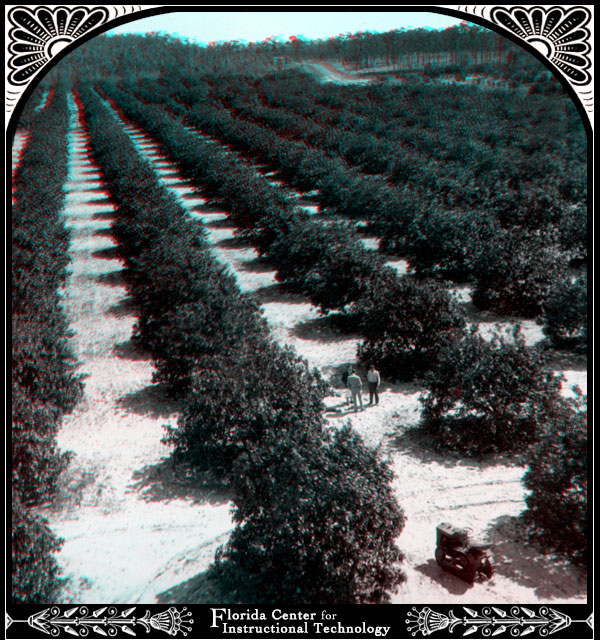 A winter prospect in Florida- Orange grove near Clearwater. The most important industry of Florida is the growing citrus fruits. Before us is a typical grove. Note how uniform size trees are rooted in the white sandy soil which is so common in most every section of the state. Irrigation is unnecessary here because the heavy annual rainfall, averaging 57 inches, is amply sufficient. In the distance we see undeveloped land covered with tall, straight pines and with underbrush of scrub palmetto. Such land must be cleared before a grove like this one we are looking at can be set out. Note the shadows of the men and of the trees. They are short as compared to those we would find at this same time of year in the North, for it is now February. Near to the tropics as we are, the sun's rays are less slanting, scattered less over the surface and are of greater warmth. The Florida orange has been developed from the wild orange found commonly throughout the state. This wild orange had its origin in Spain and was brought to Florida by the early Spanish settlers. Upon the stocks of these wild oranges has been grafted eery known variety of orange brought from all parts of the world. Many new varieties have also been produced in Florida by hybridization. There are three main classes of oranges grown in Florida- Satsuma, round orange and tangerine. The Satsuma grows in the frost belt of north and west Florida. The round oranges and tangerines are grown in the central and southern parts of the state. Between six and eight months elapse between the time when the orange trees blossom and the fruit matures and ripens.
Photographer:

Unknown

Date:

Unknown

Publisher & City:

Keystone View Company: Meadville, Pa., New York, NY., Chicago, Ill., London, England

Series & Number:

26723
Exploring Florida: Social Studies Resources for Students and Teachers
Produced by the Florida Center for Instructional Technology,
College of Education, University of South Florida © 2008.