Research Partners
Without the collaboration and cooperation of these organizations, our research would not be possible. We gratefully acknowledge the participation of the teachers, students, and other community members who represent the organizations listed below.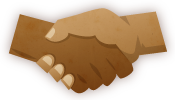 This summer camp, which began in 2004 as Kids Make Movies, is a collaboration between the historic Tampa Theatre and the Florida Center for Instructional Technology.
Tampa Theatre, open since 1926, is a registered historic landmark. The theater shows a wide range of independent, foreign, and documentary films and is home to the Let's Make Movies summer camp.
Located in a country setting and using brain-based instruction, Learning Gate Community School is committed to ecology and the environment while maintaining the comfort of a one room school house.
The Florida Center for Instructional Technology (FCIT) is located in the College of Education, University of South Florida, at Tampa, Florida. FCIT is funded by the Florida Department of Education to provide leadership, instructional materials, and support services to educational institutions with regard to the integration of technology into K-20 education.
The UACC is a multipurpose complex opened in 2000. The center's mission is to improve and sustain the surrounding community.
St. Lawrence Catholic School is an historic diocesan school in West Tampa that serves students in grades pre-K through 8.