Deans of College of Education
Dean Roger Wilk, 1973–1977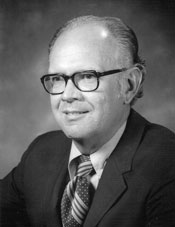 Upon Dr. Jean Battle's resignation as Dean of the USF College of Education in 1970, Dr. Lance Hunnicutt, a professor in the Department of Educational Leadership, served as Acting Dean of the College for the next two years. After a national search, Dr. Roger Wilk, a professor of education from the University of Minnesota, was appointed as the second dean of the USF College of Education in 1973. His arrival to the College was delayed and Dr. James Dickinson, a professor from the Department of Psychological Foundations of Education, agreed to serve as Interim Dean of the College until Dr. Wilk could officially begin his tenure in the fall of 1973.
Dean Wilk's Administrative Team
Dean Wilk's administrative team in 1973 consisted Dr. Phil Pfost, Associate Dean for Programs; Dr. Louis White, Assistant Dean for Administration; and Dr. Richard Higbee, Assistant Dean for Budgets. In 1975, his administration changed when Dr. White and Dr. Higbee left the College and Dr. Hubert Hoffman became Associate Dean for Programs, and Dr. Annie Ward was named Associate Dean for Research and Development. This team served together throughout the remainder of Dean Wilk's tenure.
Accomplishments and Milestones
In his second year, Dean Wilk implemented a plan to reorganize the College of Education from an eighteen department administrative structure into an interdisciplinary arrangement in which faculty elected to join one of five new departments based on their areas of expertise. The departments available to faculty included "A" and "C," "B," "D," and "E." The next year Department "A" and "C" was named Curriculum and Instruction, "B" became Communicative Arts, "D" became Educational Systems, and "E" was named Human Effectiveness. In addition to consolidating eighteen departments into four departments, the reorganization was designed to promote interdisciplinary interaction between faculty members assigned to different departments. A faculty study group appointed by Dean Wilk eventually resulted in the re-organization of the College into fourteen departments.
Contributions to the College of Education after the Deanship
Dr. Wilk resigned from his position as Dean in 1977. He returned to the Department of Measurement and Research as a faculty member where he continued to teach and conduct research until his retirement from the College of Education.