The SunCoast Area Teacher Training Honors Program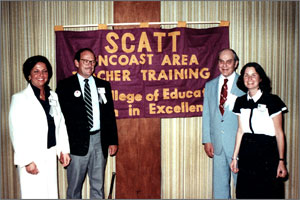 The SunCoast Area Teacher Training Honors Program (SCATT) was founded in 1981 at the USF College of Education through the action of the Florida Legislature. Dean Katzenmeyer sought "a place for academic students, and those with the best attitudes to reinforce each other and the lofty goals that we held as educators." The mission of SCATT became "to attract and retain the best and brightest in the teaching profession."
The SCATT Honors Program is in its 25th year of service at the College of Education. It was established in 1980 by the Florida Legislature. The program was initiated in 1981 with Dr. Marcia Mann serving as the first director. With a smile, Dean Katzenmeyer reports that it was under Dr. Mann's tutelage that he learned how to become an effective lobbyist. Dr. Mann cultivated many professional relationships over her tenure that have been instrumental in program's success. One longstanding relationship is with Stephen Barkley, the creator and consultant for Performance Learning Systems. It is a relationship that exists to this day.
When Dr. Mann resigned from the program in December 1990, Dr. Joyce Swarzman succeeded her as the program's director. Dr. Joyce Swarzman served at SCATT for over a 15-year period from 1981 to 1996, first as the assistant director and then as director. She left an indelible mark on the program. By trying to keep SCATT on the cutting edge of research and practice, the program permeated the work of the College and catapulted into recognition both regionally and nationally when it received the Showcase for Excellence Award from the American Association of Colleges for Teacher Education (AACTE). Dr. Swarzman was also known for her passion, excitement, and love of teaching. One of her favorite story involves Dean Katzenmeyer. It appears that on one occasion the police were called to the College to investigate the uproar of shouting and general disturbance. Upon their arrival, they found Dean Katzenmeyer leading a SCATT workshop on the topic of enthusiasm in teaching.
In 1996, Dr. Swarzman began her work with Independent Day School and Dr. Hilda Rosselli took over the SCATT reins. Dr. Rosselli recalled that she always viewed SCATT as an incubator for new and innovative topics or approaches that if proven successful would eventually migrate into the entire teacher preparation program. One example of how SCATT programs were implemented through out the College was when an abbreviated version of the verbal skills training offered by Stephen Barkley of Performance Learning Systems was adopted and offered to all student teachers for a nominal fee. Dr. Rosselli believed these kinds of innovations kept SCATT fresh and on the cutting edge. She noted that she "will always remember how eager principals were to find out who our SCATT graduates were so that they could hire them." The words ' above and beyond' really characterized SCATTERs and our employers valued that quality in the teachers they sought to hire."
Reflecting back on her seven years as the program's director, Dr. Jean Linder considers SCATT as, "One of the most joyous opportunities I ever had working with people. The students came to SCATT because they wanted to, stayed because they were good, and were dedicated." Dr. Linder recalls weathering some difficult times as she tried to offer the highest possible quality programs with limited resources, but was very pleased to involve some wonderful USF faculty as presenters. She refers to the College of Education faculty as "superstars," and considers working for SCATT as, "One of the greatest privileges of my life." Dr. Linder retired from the College of Education in 2005.
Any reflection on the SCATT program would be remiss without a tip of the hat to Mr. Stephen Shoe. Mr. Shoe, a former SCATT Honors student himself, has worked as the Activities Coordinator under four directors over a 12 year period from 1994 to 2006. The more recent SCATT graduates remember him fondly.
Ultimately, it is the achievements of the SCATT program that define its legacy. The accomplishments and continual influence of SCATT are reflected through the three major components of the honors program. The program's environment encourages students to act as positive role models for their peers as they participate in intensive workshops and seminars above and beyond their teacher education programs. These workshops are presented by invited pedagogic experts from the university and K-12 school partners.
The second major element of the SCATT program is to support in-service teachers. There have been 2,472 exemplary teachers who have taken the SCATT clinical teacher training between 1981 and 2005, and SCATT has to date assisted 55 master teachers as they prepared to apply for certification by the National Board for Professional Teaching Standards (NBPTS).
SCATT, currently under the leadership of Dr. Roger Brindley, seeks to continue and expand educational learning communities in the College of Education and with our K-12 partner school districts. SCATT sponsors academic events that appeal to in-service and pre-service teachers and university faculty. The program also works in collaboration with David C. Anchin Center school district initiatives for school districts in the USF service area that focus on staff development.
Since its inception, SCATT has extended the professional development of 7,540 teachers (5,032 pre-service and 2,508 in-service teachers). SCATT graduates are highly recruited by school districts because of their additional training and leadership skills, while an outside consulting firm confirmed school principals are very satisfied with SCATT graduates.
There are only a few educational honors programs in the United States. The College of Education is very proud of the many contributions that the SCATT Honors Program has made in the area in promoting the training of exceptional teachers to become leaders in the field of education.
Additional Photos