University of South Florida Established

Campus Site
When the University of South Florida accepted its first students in 1959, the campus was only a shadow of what exists today. While the new University of South Florida was referred to as an "urban university" because of its proximity to Tampa, its location was far from urban. The site selected for the campus was once a hunting preserve, an orange grove, and then served as the north end of a military landing strip (Henderson Air Field) during World War II. All the trees had been cut down to provide clearance for planes to take off and land. What remained were sand, sparse grass, and a few scrub oaks. (See photographs.)
Dr. John Allen became president of the University of South Florida in 1957, before the institution had a name and was only a vision. Although he was given an allocation of 1,700 acres of barren land, there was no staff, no faculty, no students, and no buildings. With a note pad and a box of pencils, and situated in an office in the Hillsborough County Courthouse, he began to form the vision that would become the University of South Florida.
The 1,700 acres of land, which had been a favorite hunting area for Tampa residents, was so undeveloped that in November 1960, the USF Security Office announced that hunting was prohibited and students should not bring firearms on campus. Problems with wildlife, which included escaped birds from Busch Gardens, continued to be an issue of concern. In May 1961, the Tampa Times reported that a four foot long alligator had to be removed from the fountain pool in the Administration Building courtyard by Dr. Glen E. Wolfenden, a biology professor, and his student assistant.
Educational Opportunity
USF was the only major state university in Florida to be planned and built in a large metropolitan area during the 20th Century. The urban location of USF provided a distinct advantage that the other three other public universities in the state (University of Florida in Gainesville, Florida State University, and Florida A&M University), did not have. USF had an abundance of prospective students who could commute to the USF Tampa campus for classes and live at home. It was widely expressed that for first generation of immigrants in the Tampa area, appreciated that their children could live at home and still be able to receive a college education.
There was no doubt that the mission of the University was to support the endeavors of those students who were willing to dedicate themselves in the attainment of a quality educational experience. The 1959 edition of Accent on Learning, the first USF catalog, stated that there would be many learning opportunities for the superior student, assistance for the slow learner, but no encouragement for the loafer. USF administrators under the leadership of President John Allen, set out to make a university experience accessible to those who may not have had other available opportunities to fulfill their dreams of obtaining a college education.
As it opened its doors to the public, the University of South Florida accepted students with scores in the upper 60 percent on the Florida Statewide 12th Grade Exam. The founders of USF, however, recognized that many students in the Tampa Bay area had for many years been unable to gain access to higher education. Thus, the University stated that it would accept mature students who did not have the required high school test score, and it offered Saturday and evening classes to accommodate those who already had jobs.
The first complete courses students enrolled in at USF were New Trends in Teaching Reading and Teaching Reading in the Elementary School. Seventy-six students enrolled in and completed these courses from July 25, 1960 to September 2, 1960, even though classes at USF did not officially begin until September 26, 1960.
First Campus Buildings
In order to accommodate the commuting students, parking was designated on the periphery of the campus with the University Center and the other buildings in the center.
The first three buildings on the USF Tampa campus, the Administration Building, Chemistry Building, and the University Center, were built at a cost of $14.50 per square foot. This was substantially below the average cost of $17.50 per square foot of the other state university buildings that were under construction at that time. President John Allen stated that the lower construction costs were due to better building design and competitive bidding. This meant that USF was able to obtain more building space than originally planned for its allocated funds.
USF was also the first university in the state of Florida to have air conditioned buildings. Some of the 932 students attending classes in the summer of 1961 said the reason they were enrolled in summer school was because of the air-conditioned classrooms.
Faculty Salaries
In 1958, College of Education faculty salaries ranged from $4,800 to $12,000 (or $33, 632 to $84,083) in 2006 dollars. President John Allen advised faculty to find housing close to campus as they may not be able to afford to purchase two cars. It should be noted that in 1961 the Florida State Senate Appropriations Committee voted to raise Dr. John Allen's salary to $17,500, with a housing and car allowance, which would then make his salary equivalent to the other state university presidents.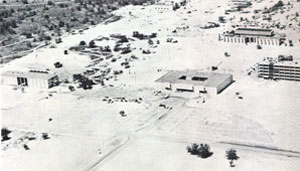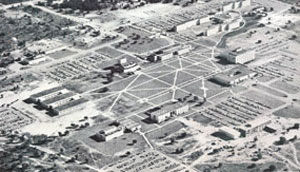 In January 1961, grass and trees were planted and sidewalks were completed between the Administration, Chemistry, and University Center buildings. This reduced the need for students to cover their faces with handkerchiefs on windy days to protect their faces from blowing sand. Students often referred to this area of the campus as "the desert." By 1967, some 500 trees had been planted on campus and a traffic light installed on the corner of Fowler Avenue and 30th Street. (See Figures 1 and 2)
Despite these meager beginnings there was a vision and a spirit among faculty, students, and administrators to build a high-quality university. The surprise was that the development of USF came so fast and became larger than anyone expected. USF's early administrators and faculty members could not have predicted that by 2006 that the USF College of Education and would become the fifth largest college of education in the United States, and that it would graduate over fifty thousand educators in its first fifty years. The University of South Florida continues to increase its influence and is aspiring to be ranked among the top 50 public universities in the United States. USF has an enrollment of 44,000 students from across Florida, the United States, and around the world and is supported by more than 11,000 employees. In 2006, USF was designated as a Research I university by the Carnegie Foundation for the Advancement of Teaching. The College of Education will continue to grow with USF and bring high quality, professional opportunities to those individuals who have dedicated their careers to the field of education.