Dr. Emanuel Ringelblum Archives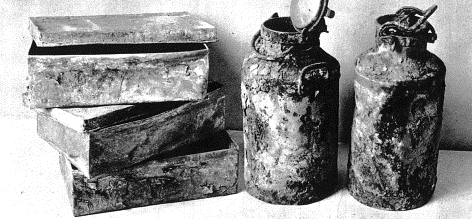 Three of the ten metal boxes and two milk cans in which Dr. Emanuel Ringelblum hid documents and materials to preserve for future generations detailed information about life in the Warsaw ghetto. In September, 1946, the metal boxes were discovered under the ruins of a house. In December, 1950, the milk cans with the second part of the archives were recovered. These materials and documents are now in the Jewish Historical Institute in Warsaw.
Photo credit: Meczenstwo Walka, Zaglada Zydów Polsce 1939-1945. Poland. No. 150.





A Teacher's Guide to the Holocaust
Produced by the Florida Center for Instructional Technology,
College of Education, University of South Florida © 1997-2013.