Paynes Prairie
(Adapted from Paynes Prairie Preserve State Park brochure)

Have you ever heard of Paynes Prairie? It is one of the most important natural and historical areas in Florida. Paynes Prairie is located near Gainesville. It is large, 21,000 acres. This protected land is called a preserve. The Florida Park Service manages the preserve.

Formation

The Paynes Prairie basin was formed when limestone dissolved and the ground settled. It is covered by marsh and wet prairie vegetation. There are areas of open water. During brief periods it has flooded enough to be considered a lake. Except for that, the basin has changed little through time.

Human Occupation

Man has lived on Paynes Prairie a very long time. He lived there as far back as 10,000 B.C.

At one time, the Seminoles lived there. The prairie is thought to have been named after King Payne, a Seminole chief.

During the late 1600s, the largest cattle ranch in Florida was on Paynes Prairie.

Today, Paynes Prairie is preserved land. It is occupied by visitors and Florida Park Service employees.

Wildlife

Willam Bartram visited Paynes Prairie. Bartram was the first person who portrayed nature through personal experience as well as scientific observation. He lived 200 years ago. He visited Paynes Prairie in 1774. At that time he described it. He called Paynes Prairie the "great Alachua Savannah."

Most of the animal life, which Bartram described, is still here. A large number of sandhill cranes, hawks and waterfowl are here in winter. The animal diversity is increased by the presence of pine flatwoods, hammock, swamps and ponds.

Preserve

The Paynes Prairie Preserve State Park is open year round. The Florida Park Service works hard so that the park will appear as it did in the past. It offers many opportunities for recreation. At the park you can camp and picnic. You can hike and bike. You can boat and fish. You can ride on horse trails. And you can see lots of nature and wildlife. You can see Florida as it was in the early days.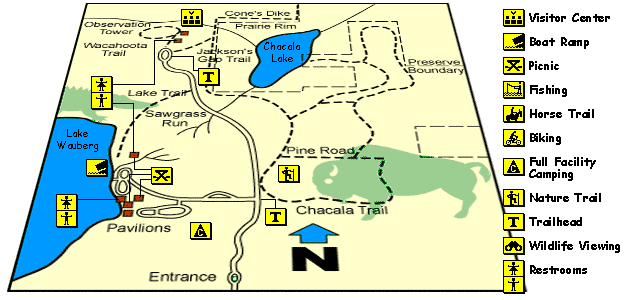 Paynes Prairie is a part of our Florida history. It is an example of our Florida natural resources. It is a place for recreation. Paynes Prairie is an important experience of the Real Florida.



First Question