The Everglades is a unique treasure found in South Florida. The Everglades is the largest remaining subtropical wilderness in the United States. It consists of 1.5 million acres of saw grass marshes, mangrove forests, and hardwood hammocks dominated by wetlands. It is home to endangered, rare, and exotic wildlife.

Origins of the Everglades

Water in South Florida once flowed from the Kissimmee River to Lake Okeechobee. Then it flowed southward over low-lying lands to Biscayne Bay, the Ten Thousand Islands, and Florida Bay. This shallow, slow-moving sheet of water created a mosaic of ponds, marshes, and forests. Over thousands of years this developed into a balanced ecosystem.

Wading birds such as great egrets, white ibis, herons, and wood storks were abundant. The Cape Sable seaside sparrow, Miami blackheaded snake, manatee, and Florida panther made the Everglades their home. Alligators and crocodiles existed side by side.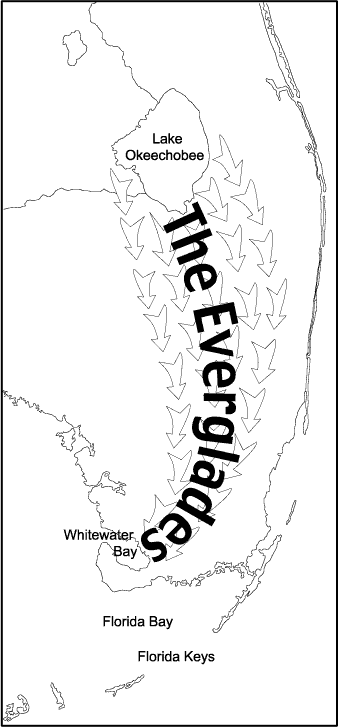 The Seminole and Miccosukee Indians settled in the Everglades. Although they battled with the alligators and crocodiles who live in the 'Glades, they did not interfere with the overall balance of the ecosystem.

Draining the Everglades

Early settlers and land developers considered the Everglades to be a worthless swamp. By the 1800s, developers started digging canals to drain the wetlands. Between 1905 and 1910, large tracts of land were converted to agriculture. This "new" land stimulated the first of South Florida's land booms. Henry Flagler constructed the first railroad down the Florida peninsula opening up this area to people.

By the 1920s, visitors and new residents flocked to towns like Fort Lauderdale, Miami, and Fort Myers. As they arrived, more canals were dug. Canals, roads, and buildings took the place of native habitats.

In 1948, Congress authorized the U.S. Army Corps of Engineers to construct a system of roads, canals, levees, and water-control structures stretching throughout South Florida. This was intended to provide water and flood protection and to help preserve the Everglades. However, the alteration of the wetlands—combined with increasing population—damaged the natural system.

In the 1960s, the federal government considered building an international airport in the Everglades area. Florida environmentalists objected. Marjory Stoneman Douglas organized the Friends of the Everglades. The airport was not built and a strong crusade to "Save the Everglades" was begun.