Old Fort San Marcos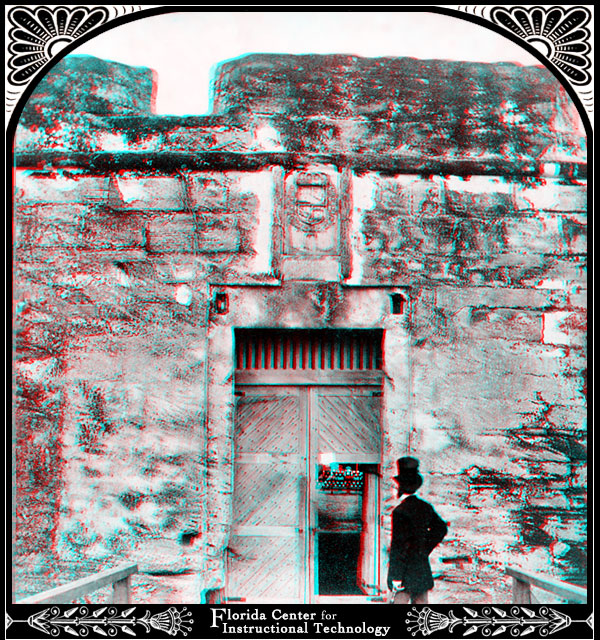 Door Way of Old Fort San Marcos. Built by the Spaniards in 1565, the Indians being compelled to do the labor of building. The thickest part of the fort walls is 40 feet, and covers 5 acres. It was bombarded in 1744 by Gov. Oglethorp of the colony of Georgia; it is built of Coquina and said to be the best preserved specimen in the world of the military architecture of its time. It is the oldest Fortification on the western continent. Its walls and watch towers remain intact, but its guns are dismounted and the moat is dry. It is in all respects a castle, built after the plan of those of the middle ages of Europe. There are the inner and outer barriers, the barbican, the draw bridge, portcullis, wicket and all the appliances of such fortifications. In 1836 the terra plain of the north east bastion caved in, exposing a deep and dismal dungeon; impelled by curiosity the U. S. Military engineer descended into this dungeon, where to his surprise he discovered the skeleton of a human being being manacled to the wall. He also discovered two iron cages suspended from hasps in the wall of the dungeon; one had partly fallen down from rust and decay, and human bones lay scattered beneath it on the floor of the dungeon.
Photographer:

Unknown

Date:

Unknown

Publisher & City:

The Florida Club

Series & Number:

St. Augustine Views
Scan courtesy of The Florida State Archives, Tallahassee, Florida. Image retouched and converted to anaglyph in 2005 by the Florida Center for Instructional Technology at the University of South Florida, Tampa, Florida. View this image using 3D glasses with the red lens over the left eye and the blue lens over the right eye.
Exploring Florida: Social Studies Resources for Students and Teachers
Produced by the Florida Center for Instructional Technology,
College of Education, University of South Florida © 2014.