Harriet Beecher Stowe, although best known for her novel Uncle Tom's Cabin about the cruelty of slavery, also wrote about Florida. In the late 1800s she describes Florida as, "a tumble-down, wild, panicky kind of life—this general happy-go-luckiness which (is) Florida." Her descriptions of picnicking, sailing, and river touring expeditions and her simple stories of events and people in this tropical "winter summer" land became the first promotional writing to interest northern tourists in Florida.

She was born in 1811 in Connecticut. She was one of eleven children of a famous preacher. She attended school, which was unusual for a girl at that time. When she was 12, her principal read her term paper aloud at her graduation. At the age of 16, Harriet became a full-time teacher. Her earliest publication was a geography book for children called a Primary Geography for Children.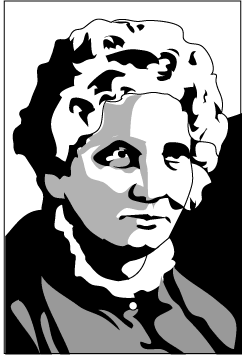 In 1852, Uncle Tom's Cabin was published. In this novel, Harriet tried to show what life was like for slaves who were treated harshly. Harriet lost a son when he was only months old. She could well imagine how terrible it would be for a slave mother to lose a child because the child was sold. In the book, Harriet describes the desperate flight of Eliza, a slave, as she runs across a frozen river with her son Harry in her arms to save him from being sold.

The book sold over 10,000 copies in the first week and was the best seller of its day. It sold 500,000 copies within five years. After its publication, Stowe became an international celebrity and a very popular author. She spoke out against slavery in
America and Europe. According to legend, when she met President Lincoln he said, "So you're the little woman who wrote the book that started this Great War!" (Civil War)

During her writing career of 51 years, she published many books and shorter pieces. She wrote on a wide range of subjects including homemaking, raising children, and religion. She wrote poems, travel books, biographical sketches, and children's books. She did this while raising seven children and managing a household. She was fortunate in having the support of her husband, which was unusual for this time when women were not expected to have a career beyond the home.

In the 1860s, the Stowes purchased property in Mandarin, Florida, on the St. Johns River (near Jacksonville). They began to travel South each winter. The Stowes arrived in Florida nearly twenty years ahead of Henry Flagler. Harriet, her brother Charles Beecher, and others felt Florida did not have as many racial divisions as the rest of the South following the Civil War. They dreamed of making the state a safe place for freedmen and progressive northerners. Harriet helped establish schools for African American children in Florida.