Urban Education Conference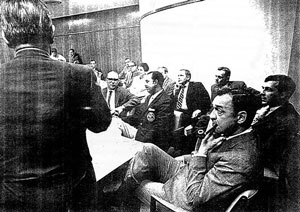 In March 1969, the College of Education worked in collaboration with the Florida Public School Board and sponsored a two-day conference in the College of Education Kiva that focused on issues relating to urban education. Florida Governor Claude Kirk was the first speaker at the conference. He challenged the 75 administrators and teachers in attendance to provide a vocationally relevant education that would meet the needs of low income, inner city students. Governor Kirk wanted the educators to begin to focus their efforts on the 83 percent of students who would not attend college.
The second speaker, Dr. William Birenbaum, had previously worked in the development of a new college in the low income area of Bedford Stuyvesant of New York City. He stressed that both educators and politicians systematically excluded poor African Americans from any meaningful decision making in the field of education. Tampa's Mayor Dick Greco also participated in the discussions of the conference.
USF College of Education Dean, Dr. Jean Battle said, "Older universities are usually too rigid to tackle the problems of urban education in America, but USF is young and flexible enough to do so. The problems facing urban education such as poor family structure, poor nutrition, absence of male influence, and poor health habits are serious ones which must be solved."
The USF College of Education was the only college of education in the state of Florida at that time located in an urban setting. The College's focus from the beginning was to prepare teachers to teach in inner-city schools.