Andrew Hines
Andrew H. Hines Jr. is a World War II veteran, former president of Florida Power Corporation, and retired chairman of Progress Energy, Inc. Raised in Lake City, the son of a sawmill operator, he attended the University of Florida graduating with a bachelor's degree in mechanical engineering. During World War II he served as a commissioned Army Air Force officer flying missions in Europe. Shot down over Hungary, Hines was a prisoner of war in several German prison camps known as "Stalags."
Video Oral History

Below are excerpts from an oral history interview with Andrew H. Hines Jr. describing his childhood in Lake City Florida, his memories of the attack on Pearl Harbor, and his experiences in World War II. The oral history interview was conducted by Jim Schnur, Special Collections Librarian, Poynter Library, University of South Florida St. Petersburg in January 2009.
Click on any of the links below to view clips of Hines' oral history interview.
Memories of life in Lake City as a boy; Description of community of Lancaster in North Florida; Conditions in Florida as a child.
Describes the University of Florida in early 1940s.
Speaks about teachers in Florida during his youth.
Hines' memories of December 7, 1941.
Memories of people on campus going off to war. Thoughts on war uniting the country.
Speaking about father's sawmill, cutting trees on the former premises of Camp Blanding and hitting bullets lodged in the trunks.
Registering while at school – getting called up; Basic training in Miami; Training background.
First training assignment. Observations on culture of Italian community and impact of war on countryside.
Hines' describes "short snorters." For a more detailed description of short snorters, click here: Short-Snorters. To view pictures of Andy Hines' short snorters, click here.
Speaks about missions, including 1st mission – attack on oil refineries, planes and groups in squadron, and fighter activity.
Reflections on German soldiers.
Description of "Stalags," German word for prisoner of war camps. Includes description of food at camp. To learn more about the camps that Hines was in visit http://www.b24.net/pow/stalag3.htm
Describes experience of becoming a POW including: plane shot down, becoming a POW, trip to Budapest as POW, interview with American officer at prison camp, Red Cross food parcels, military protocol for communication between POWs and German soldiers, German
Describes why he kept a diary, how it was made. To view images of Hines' diary, click here.
Describes a scare when he thought he might be entering a gas chamber.
Describes details leading to liberation: camp evacuation, the March, freezing weather, first time he thought he might not make it, the church, the German woman with hot water.
Discusses points of maximum peril for prisoners.
Describes a piece of barbwire from the camp that he took as a memento.
Experiences after the War, including: chances of being sent to Pacific, returning to UF, GI Bill.
Discusses where he was on V-J day.
Describes life after the war, including work experience with GI and Progress Energy.
Recaps the chronology of experiences in war, includes description of witnessing plane crash, being shot down, imprisonment, transfers, liberation.
Describes return to Europe to visit POW camps.
An eloquent reflection on World War II. Hines reflects: would not have missed it, comparisons to present day.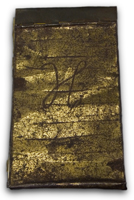 While a prisoner of war, Andrew H. Hines Jr. kept a diary chronicling his experiences from capture to liberation. He handwrote the diary on the back of cigarette packages and obtained a metal can, which another POW fashioned into a case to hold the diary. The can was flattened with improvised "hinges" that held the pages together. The initial "H" is inscribed on the cover.
Andrew Hines enjoyed poetry and included in his diary the poem "Lie in the Dark and Listen" by Noel Coward. The poem adds dimension to his experiences, allowing the reader to visualize what it must have been like to lie in the dark, in enemy territory, listening to the war and wondering how it would all end.
The diary also includes descriptions of the evacuation march to Stalag VII A, POW sheet metal work, Red Cross parcels, and the Battle of Moosburg from a prisoner's perspective. Hines kept the diary because he felt that the imprisonment was a significant event in his life and knowing that his memory of the time would become hazy, he felt the diary would capture the events as they really were.
There are 27 pages in the diary, 11 of which are reproduced here. To read a transcription of the entire diary Click here.
Click on the image of the diary above to view individual pages.
Images
Currency
"Short snorters"

Andrew Hines had several "short snorters" of foreign and confederate currency in his collection.
[Picture 1 of 10] [Picture 2 of 10] [Picture 3 of 10] [Picture 4 of 10] [Picture 5 of 10] [Picture 6 of 10] [Picture 7 of 10] [Picture 8 of 10] [Picture 9 of 10] [Picture 10 of 10]

German currency collected by Andrew Hines during the war

German currency that Hines collected during the war.

Currency issued by the United States for use in Italy

Money issued by U.S. for use in Italy.

Old French 100 franc..

War Ration Book issued to Andrew Hines and Louise Hines

War Ration Book issued to Andrew Hines and Louise Hines.
Documents
Clipping announcing Andrew Hines earning his wings.
Hines' Fort Benning visitor pass for his physical exam.
News clipping from Andrew Hines' collection. His name is circled for receiving an award for military bearing and neatness.
Telegram announcing Andrew Hines is MIA.
Envelope for telegram announcing Andrew Hines is MIA.
Letter informing Hines' parents that he is missing in action.
News clipping: One of Hines' parents wrote on the clipping "We think Buddy was lost in this action."
Hines' father was the superintendent of a lumber mill, hence this piece in the Southern Lumber Journal.
Newspaper clipping from Andrew Hines' personal collection about his service overseas.
Newspaper clipping from Andrew Hines' personal collection about his being missing in action while on a mission overseas.
Newspaper clipping from Andrew Hines' personal collection about his being missing in action while on a mission overseas.
Newspaper clipping from Andrew Hines' personal collection about his being missing in action while on a mission overseas.
The envelopes of letters sent to Hines from his parents while he was a POW.
The envelopes of letters sent to Hines from his parents while he was a POW.
The envelopes of letters sent to Hines from his parents while he was a POW.
The envelopes of letters sent to Hines from his parents while he was a POW.
The envelopes of letters sent to Hines from his parents while he was a POW.
The envelopes of letters sent to Hines from his parents while he was a POW.
Letter sent from POW camp by Andrew Hines to his parents. Sent on November 16, 1944.
Letter sent from POW camp by Andrew Hines to his parents. Sent on November 16, 1944.
German lunch card issued at POW camp.
Hines thinks this is the form his father had to fill out to send cigarettes to his son in camp.
Hines' thinks this is the form his father had to fill out to send cigarettes to his son in camp.
Liberation at Moosburg.
Postcard from Hines to his parents announcing his arrival in the United States.
Letter to Hines' parents updating them on the status of their son's whereabouts.
Letter congratulating the Hines on the good news that their son is coming home.
Certificate of Appreciation
Separation qualification record listing military occupations.
Certificate of Service