August 17: Davy Crockett
On this date in 1786, Davy Crocket, King of the Wild Frontier, was born. Crockett was active in Tennessee politics serving first in the Tennessee General Assembly and later in the U.S. House of Representatives where he opposed President Andrew Jackson's policies. After the election of Martin Van Buren as President, Crockett went to Texas (then a part of Mexico) to participate in the Texas Revolution. He was killed in the Battle of the Alamo.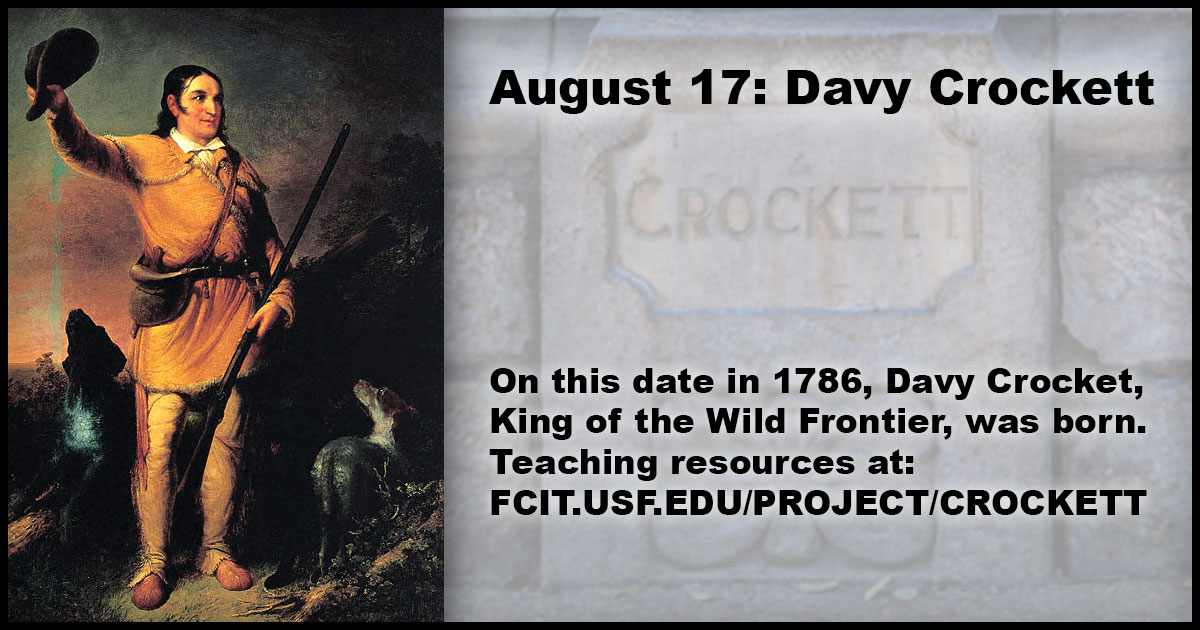 Davy Crockett Banner
Use this banner on social media to share these teaching resources.
<!-- AddThis Button BEGIN --><!-- [et_pb_line_break_holder] --><div class="addthis_toolbox addthis_default_style "><!-- [et_pb_line_break_holder] --> <a class="addthis_button_preferred_1"></a><!-- [et_pb_line_break_holder] --> <a class="addthis_button_preferred_2"></a><!-- [et_pb_line_break_holder] --> <a class="addthis_button_preferred_3"></a><!-- [et_pb_line_break_holder] --> <a class="addthis_button_preferred_4"></a><!-- [et_pb_line_break_holder] --> <a class="addthis_button_compact"></a><!-- [et_pb_line_break_holder] --> <a class="addthis_counter addthis_bubble_style"></a><!-- [et_pb_line_break_holder] --></div><!-- [et_pb_line_break_holder] --><script type="text/javascript">var addthis_config = {"data_track_addressbar":false};</script><!-- [et_pb_line_break_holder] --><script type="text/javascript" src="//s7.addthis.com/js/300/addthis_widget.js#pubid=roywinkelman"></script><!-- [et_pb_line_break_holder] --><!-- AddThis Button END -->