December 27: Hagia Sophia
On this date in the year 537, Emperor Justinian inaugurated the Basilica of the Hagia Sophia in Constantinople (Istanbul). For nearly a thousand years, Hagia Sophia was the largest cathedral in the world.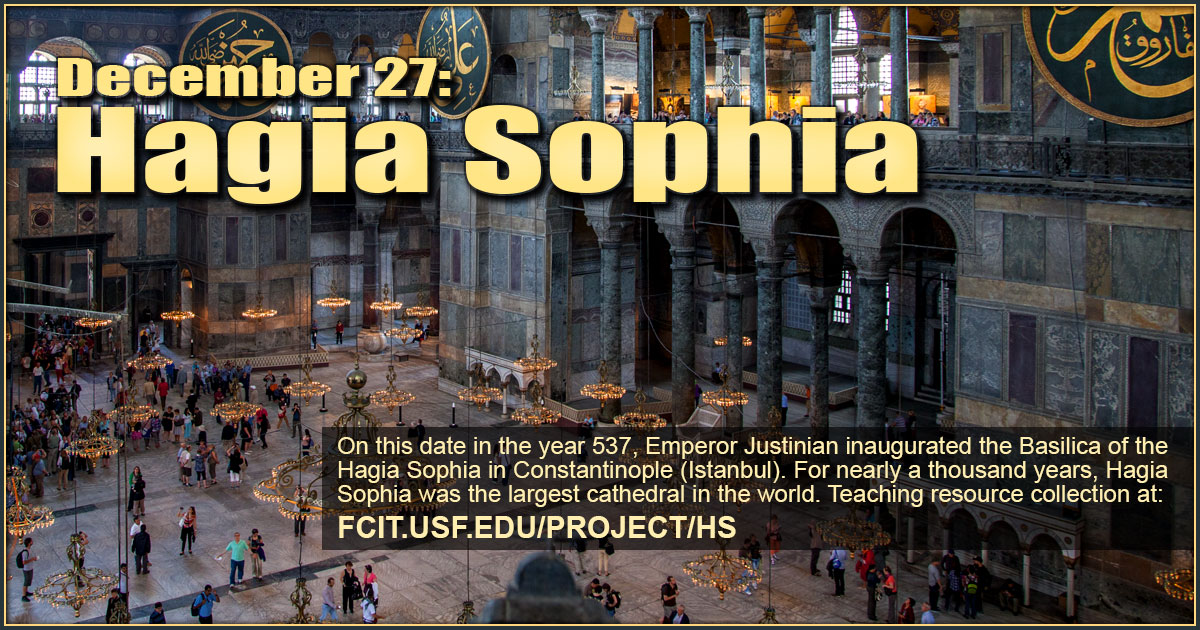 Hagia Sophia Banner
Use this banner on social media to share our Hagia Sophia teaching resource collection.
<!-- AddThis Button BEGIN --><!-- [et_pb_line_break_holder] --><div class="addthis_toolbox addthis_default_style "><!-- [et_pb_line_break_holder] --> <a class="addthis_button_preferred_1"></a><!-- [et_pb_line_break_holder] --> <a class="addthis_button_preferred_2"></a><!-- [et_pb_line_break_holder] --> <a class="addthis_button_preferred_3"></a><!-- [et_pb_line_break_holder] --> <a class="addthis_button_preferred_4"></a><!-- [et_pb_line_break_holder] --> <a class="addthis_button_compact"></a><!-- [et_pb_line_break_holder] --> <a class="addthis_counter addthis_bubble_style"></a><!-- [et_pb_line_break_holder] --></div><!-- [et_pb_line_break_holder] --><script type="text/javascript">var addthis_config = {"data_track_addressbar":false};</script><!-- [et_pb_line_break_holder] --><script type="text/javascript" src="//s7.addthis.com/js/300/addthis_widget.js#pubid=roywinkelman"></script><!-- [et_pb_line_break_holder] --><!-- AddThis Button END -->