January 4: Jacob Grimm
On this date in 1785, Jacob Ludwig Carl Grimm was born. Along with his brother Wilhelm, Jacob collected folk tales known today as Grimm's Fairy Tales.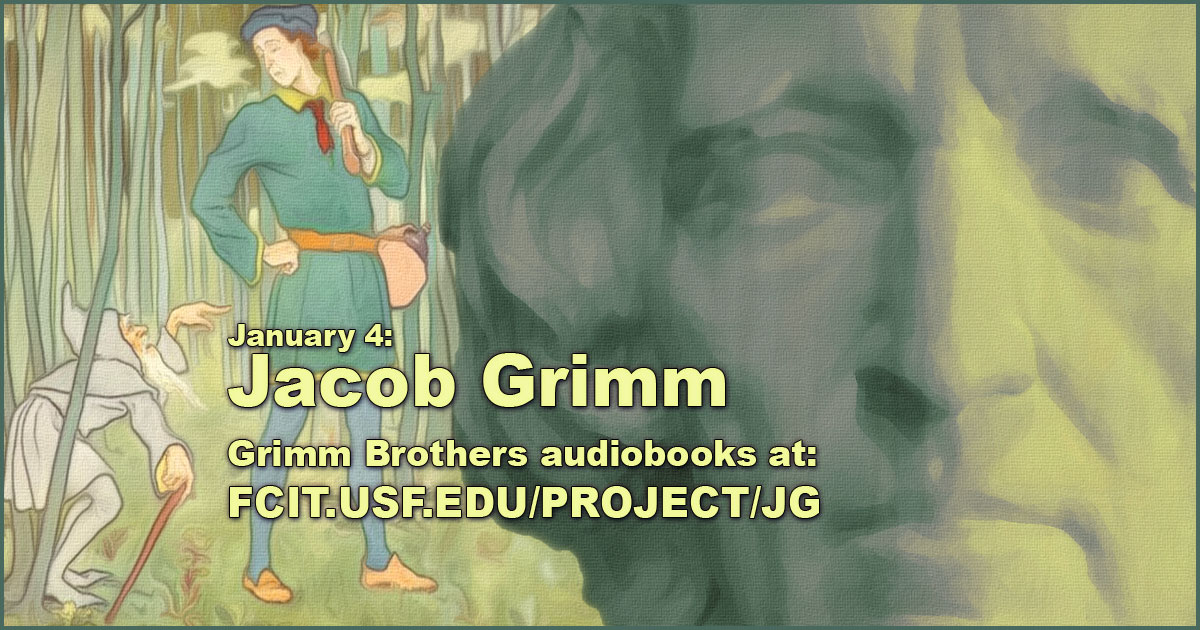 Grimm Brothers Fairy Tales Banner
Use this banner on social media to share our collection of Grimm Brothers fairy tales.
<!-- AddThis Button BEGIN --><!-- [et_pb_line_break_holder] --><div class="addthis_toolbox addthis_default_style "><!-- [et_pb_line_break_holder] --> <a class="addthis_button_preferred_1"></a><!-- [et_pb_line_break_holder] --> <a class="addthis_button_preferred_2"></a><!-- [et_pb_line_break_holder] --> <a class="addthis_button_preferred_3"></a><!-- [et_pb_line_break_holder] --> <a class="addthis_button_preferred_4"></a><!-- [et_pb_line_break_holder] --> <a class="addthis_button_compact"></a><!-- [et_pb_line_break_holder] --> <a class="addthis_counter addthis_bubble_style"></a><!-- [et_pb_line_break_holder] --></div><!-- [et_pb_line_break_holder] --><script type="text/javascript">var addthis_config = {"data_track_addressbar":false};</script><!-- [et_pb_line_break_holder] --><script type="text/javascript" src="//s7.addthis.com/js/300/addthis_widget.js#pubid=roywinkelman"></script><!-- [et_pb_line_break_holder] --><!-- AddThis Button END -->