May 4: Holmes vs Moriarty
On this date in 1891, Sherlock Holmes and criminal mastermind Professor Moriarty struggled on the narrow ledge above treacherous Reichenbach Falls. To find out how the cliffhanger ends and learn more about how the most famous detective in literature solves difficult cases, check out our free collection of Sherlock Holmes audiobooks.
Hint: You'll have to listen to two different adventures to understand the incident at Reichenbach Falls.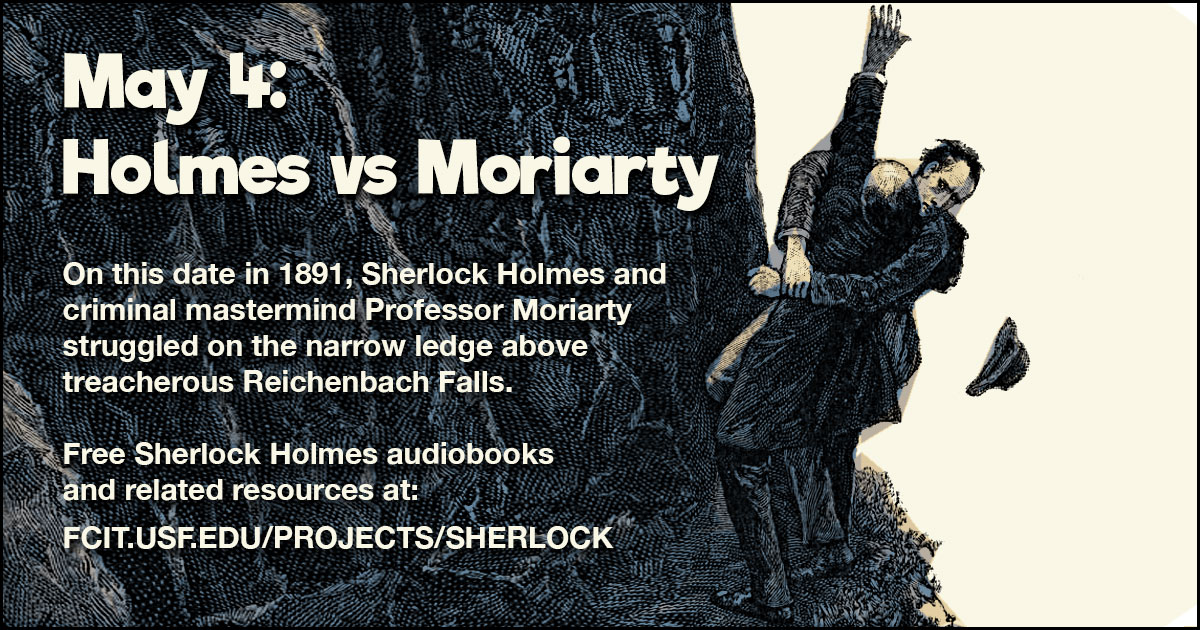 Sherlock Holmes Banner
Use this banner on social media to share FCIT's collection of free Sherlock Audiobooks.
<!-- AddThis Button BEGIN --><!-- [et_pb_line_break_holder] --><div class="addthis_toolbox addthis_default_style "><!-- [et_pb_line_break_holder] --> <a class="addthis_button_preferred_1"></a><!-- [et_pb_line_break_holder] --> <a class="addthis_button_preferred_2"></a><!-- [et_pb_line_break_holder] --> <a class="addthis_button_preferred_3"></a><!-- [et_pb_line_break_holder] --> <a class="addthis_button_preferred_4"></a><!-- [et_pb_line_break_holder] --> <a class="addthis_button_compact"></a><!-- [et_pb_line_break_holder] --> <a class="addthis_counter addthis_bubble_style"></a><!-- [et_pb_line_break_holder] --></div><!-- [et_pb_line_break_holder] --><script type="text/javascript">var addthis_config = {"data_track_addressbar":false};</script><!-- [et_pb_line_break_holder] --><script type="text/javascript" src="//s7.addthis.com/js/300/addthis_widget.js#pubid=roywinkelman"></script><!-- [et_pb_line_break_holder] --><!-- AddThis Button END -->