Sitting out on the porch of my childhood home in Pennsylvania on the longest day of the year when daylight lingers well past nine, I started to reminisce about teaching seasons to elementary students in Florida, whose idea of seasons was pretty much hurricane season and non-hurricane season. I put quite a bit of effort into helping students to understand the scientific and cultural implications of "real" seasons. Fall leaves sent from family up North decorated my classroom in September. We did a picture exchange with a Northern classroom in the winter. They sent drawings of sledding and snow while we returned drawings of palm trees and alligators.
As teachers we understand the importance of making connections to actual student experiences. As I was sitting on my porch, I suddenly remembered one of the Lit2Go poems from A Child's Garden of Verses by Robert Louis Stevenson.
Bed in Summer
by Robert Louis Stevenson
In winter I get up at night
And dress by yellow candle-light.
In summer quite the other way,
I have to go to bed by day.
I have to go to bed and see
The birds still hopping on the tree,
Or hear the grown-up people's feet
Still going past me in the street.
And does it not seem hard to you,
When all the sky is clear and blue,
And I should like so much to play,
To have to go to bed by day?
What better connection for an elementary student to make than bedtime? I doubt that there are many young students who have not thought long and hard about the fairness or lack thereof when sent to bed when they "should like so much to play." Starting with a bedtime hook would be a great way to begin a study of the seasons. Why not start a science lesson with a poem that connects with students in a tangible way?
You can find our audio recording of "Bed in Summer" here and a PDF of the poem here.
For more digital content from FCIT related to the seasons, please see the following: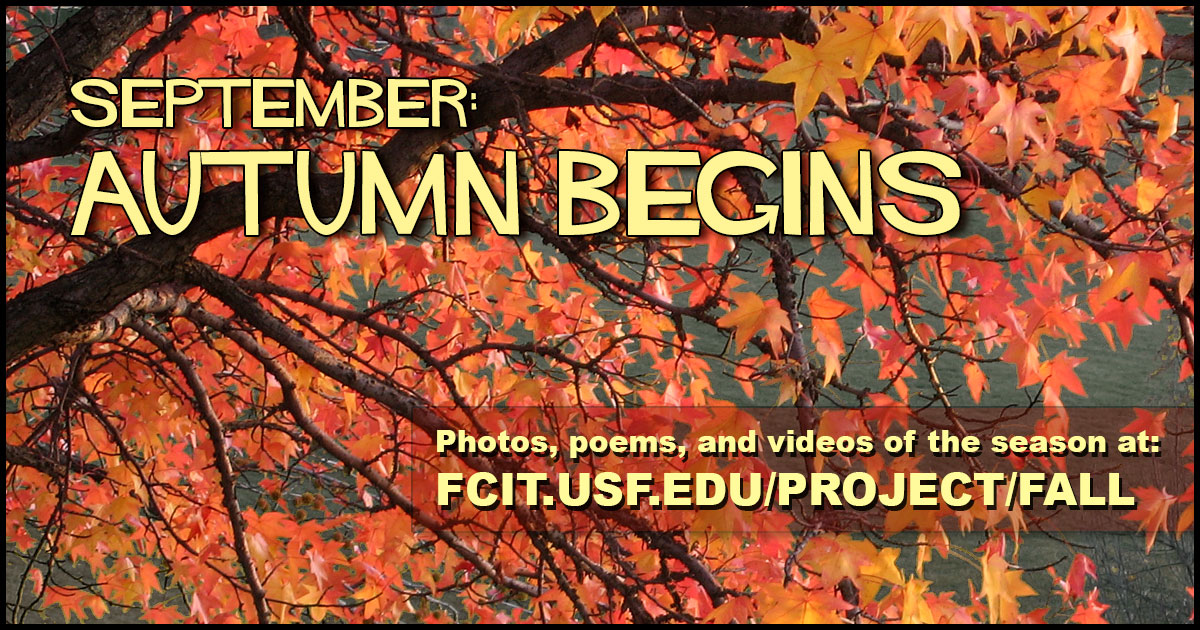 A collection of poetry, photos, backgrounds, and videos of the season for the classroom.
Roy Winkelman is a 40+ year veteran teacher of students from every level kindergarten through graduate school. As the former Director of FCIT, he began the Center's focus on providing students with rich content collections from which to build their understanding. When not glued to his keyboard, Dr. Winkelman can usually be found puttering around his tomato garden in Pittsburgh. Questions about this post or suggestions for a future topic? Email me at winkelma@usf.edu. To ensure that your email is not blocked, please do not change the subject line. Thank you!
FCIT Newsletter
Each month FCIT publishes a newsletter with short articles on teaching and learning with technology, using digital content in the classroom, and technology integration. Subscribe today! The subscription form will open in a new window. When you have subscribed, you can close the new window to return to this page.