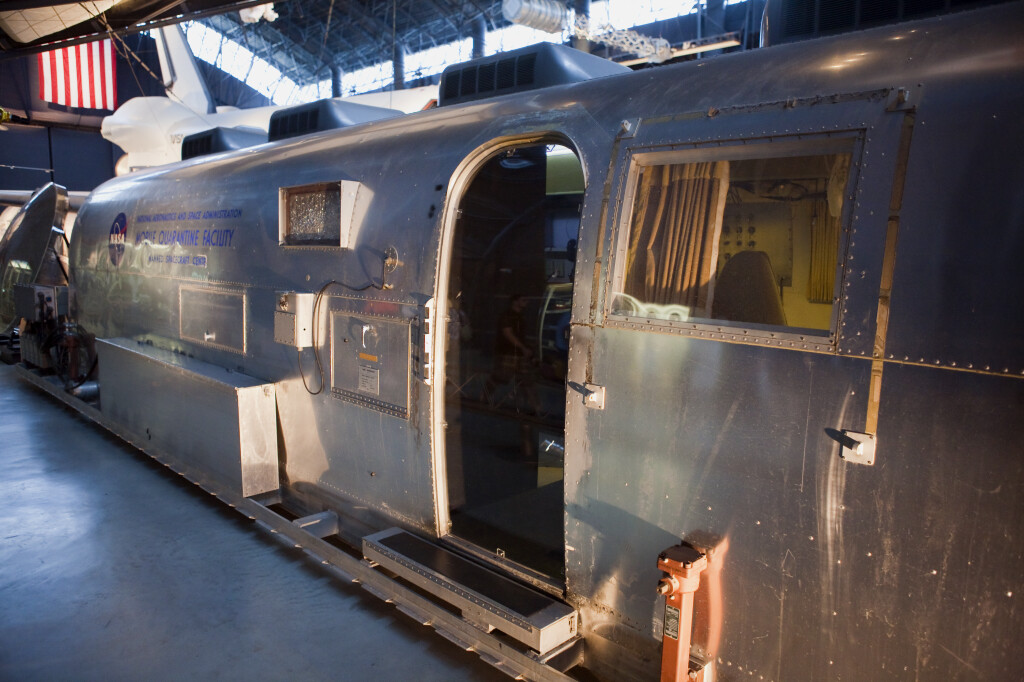 This mobile quarantine facility (MQF) was one of four built by NASA for astronauts returning from the Moon. A converted Airstream trailer, the MQF contained living and sleeping quarters, a kitchen, and a bathroom. Quarantine was assured by keeping the air pressure inside lower than the pressure outside, and by filtering the air vented from the facility.
COVID-19 has shown us how quickly and easily a virus can travel from one spot to nearly the entire world. Over 50 years ago, scientists were concerned that astronauts returning from the Moon might bring back some sort of "moon bug" that could quickly spread through Earth's population. Hence, it was decided that the returning astronauts would have to be quarantined for a period of time to see if they developed any sort of "moon disease." The MQF housed the three returning Apollo astronauts, a physician, and an engineer.
Four Airstream trailers were modified as quarantine facilities for use in Apollo missions 11, 12, 13, and 14. The MQF trailers were not used beyond Apollo 14 as it was decided the Moon was a sterile environment and posed no danger of infecting astronauts with "moon bugs." This photo provides an interesting starting point for a discussion of the history and reasons for quarantine. Here are some questions to get a conversation started and get students searching for answers:
Why was one of the four MQF trailers not used?
How many days were the Apollo astronauts in quarantine after their return to Earth?
Thousands of years ago, one disease was especially feared. Chapter 13 of Leviticus gives isolation instructions for suspected cases. What was that disease?
"Typhoid Marry" was required to remain in quarantine for three years on North Brother Island and never cook for others again. What happened next?
Quarantine comes from the Italian word for 40. Why 40?
What is a lazaretto?
The US government runs 20 quarantine stations around the country. Each serves a specific region. If you live in the United States, which quarantine station serves your area?
Ships under quarantine had to raise a quarantine flag. What color was the flag? Why was it that color?
When are animals subject to quarantine?
What was a clean "bill of health" and what does that have to do with quarantine?
What is the difference between quarantine and isolation?
Roy Winkelman is a 40+ year veteran teacher of students from every level kindergarten through graduate school. As the former Director of FCIT, he began the Center's focus on providing students with rich content collections from which to build their understanding. When not glued to his keyboard, Dr. Winkelman can usually be found puttering around his tomato garden in Pittsburgh. Questions about this post or suggestions for a future topic? Email me at winkelma@usf.edu. To ensure that your email is not blocked, please do not change the subject line. Thank you!
FCIT Newsletter
Each month FCIT publishes a newsletter with short articles on teaching and learning with technology, using digital content in the classroom, and technology integration. Subscribe today! The subscription form will open in a new window. When you have subscribed, you can close the new window to return to this page.