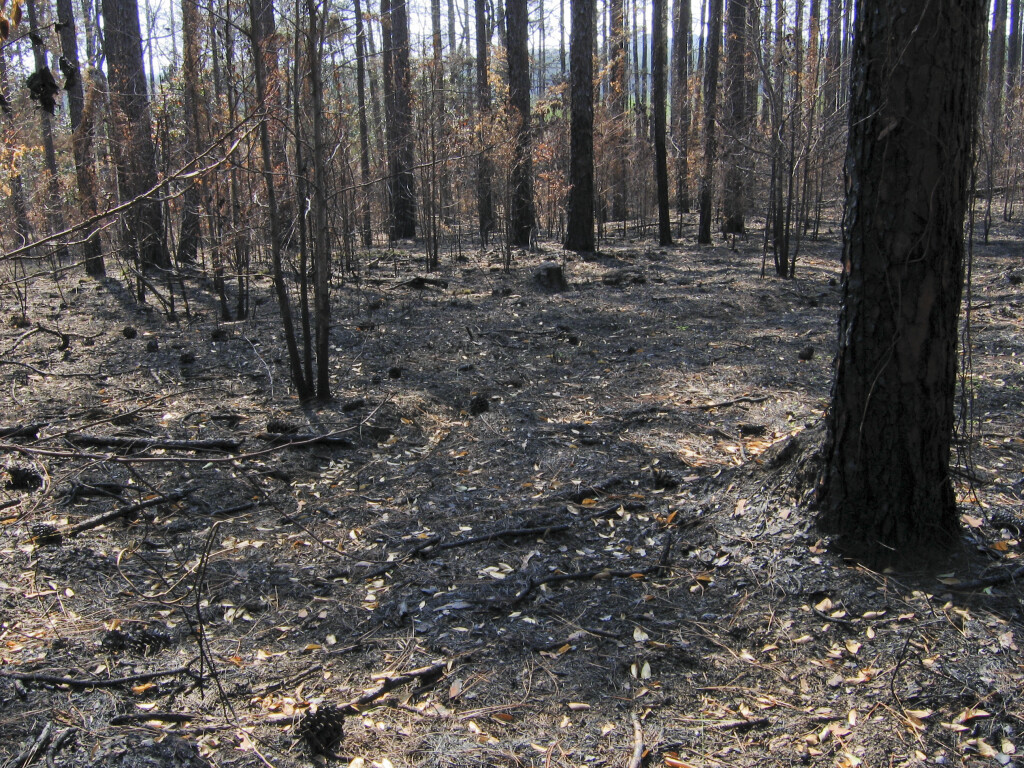 A photo of a burned forest may seem an odd choice as photo of the month since we are also celebrating Arbor Day in April. I remember how disturbed my fourth-graders were when we went on a field trip to a park that had recently conducted a controlled burn. At first, it was hard for them to understand how a "forest fire" could ever be a good thing. Your students will probably react in a similar fashion to this photo. If you like trees, it's hard to see them with charred trunks. However by the end of that field trip many years ago, the students started to understand why a controlled burn was a good thing. The park ranger pointed out that all the large trees had survived the fire, that new growth was already starting in the enriched soil, and that pinecones had opened.
Here are two related questions for your students to explore:
1. Why are controlled burns intentionally set in parks and forests?

2. What happens to a forest when there are no controlled burns and all naturally-occurring fires are extinguished as soon as possible?
Roy Winkelman is a 40+ year veteran teacher of students from every level kindergarten through graduate school. As the former Director of FCIT, he began the Center's focus on providing students with rich content collections from which to build their understanding. When not glued to his keyboard, Dr. Winkelman can usually be found puttering around his tomato garden in Pittsburgh. Questions about this post or suggestions for a future topic? Email me at winkelma@usf.edu. To ensure that your email is not blocked, please do not change the subject line. Thank you!
FCIT Newsletter
Each month FCIT publishes a newsletter with short articles on teaching and learning with technology, using digital content in the classroom, and technology integration. Subscribe today! The subscription form will open in a new window. When you have subscribed, you can close the new window to return to this page.