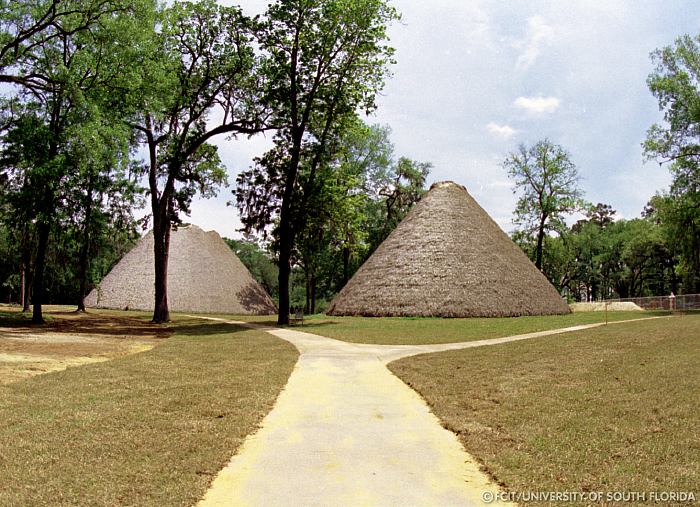 I took this photo about 20 years ago at Mission San Luis de Apalachee in Tallahassee, Florida. The structure on the left is a reconstruction of the Council House. The one on the right is a reconstruction of the Chief's House.
The Council House was the center of the Apalachee community. It served as the town hall, ceremonial building, and lodge of the Native American residents in this blended Spanish and Native American community of over 1500 people.
How many people do you think could meet together in the Council House? Thirty? Three hundred? The structure is actually much larger than it appears in this photo. The Council House could hold as many as 3,000 people. It was one of the largest documented Native American structures in the Southeast. It is as tall as a five-story building. When the reconstruction was made, it required the largest crane available in Florida to assemble the 72-foot long rafters that weighed over 1000 pounds each! Of course, when the original structure was built in the 1600s, no modern machinery was used.
More information about the Council House is available on the Mission San Luis website. If you are ever in the Tallahassee area, be sure to visit this remarkable site in person. (As of this writing, the Mission is temporarily closed to the public. Check the website for updated information about when it will re-open. You'll also find numerous virtual activities on the website.)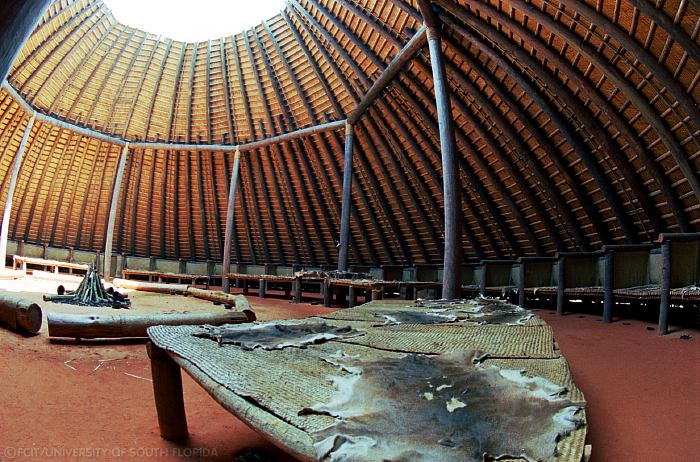 Two types of seating platforms ring the central hearth in this fish eye view of the Council House.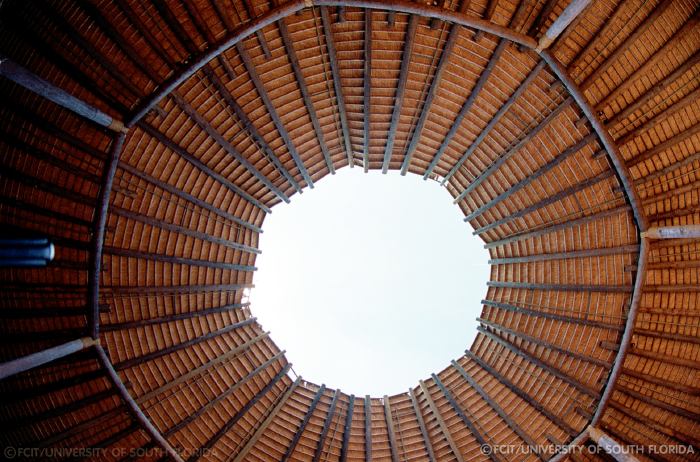 Vent in the Council House ceiling.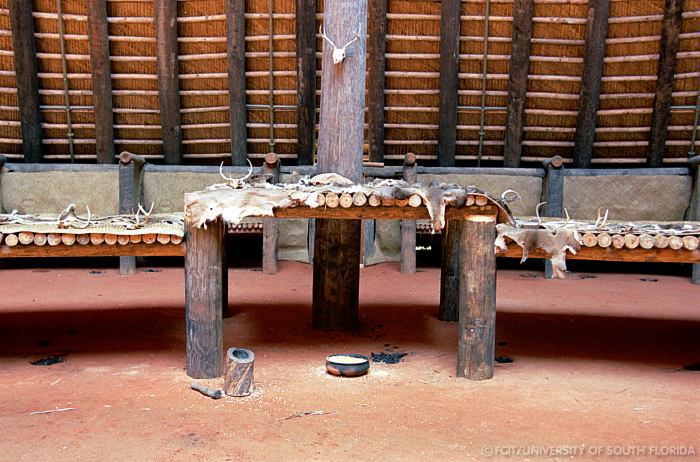 Platform reserved for the Chief.
Roy Winkelman is a 40+ year veteran teacher of students from every level kindergarten through graduate school. As the former Director of FCIT, he began the Center's focus on providing students with rich content collections from which to build their understanding. When not glued to his keyboard, Dr. Winkelman can usually be found puttering around his tomato garden in Pittsburgh. Questions about this post or suggestions for a future topic? Email me at winkelma@usf.edu. To ensure that your email is not blocked, please do not change the subject line. Thank you!
FCIT Newsletter
Each month FCIT publishes a newsletter with short articles on teaching and learning with technology, using digital content in the classroom, and technology integration. Subscribe today! The subscription form will open in a new window. When you have subscribed, you can close the new window to return to this page.