Old maps and new technology can be an exciting combination in the classroom.
You may have noticed that many of the historic Florida maps on FCIT's Maps ETC website include a link to a "Google Earth" file. If you click the "Google Earth" link, a KMZ file will download to your computer. This is a compressed file that includes information about the relationship between the historic map and the modern coordinate system. Follow these steps to view the historic map on Google Earth.
1. Launch the Google Earth application on your computer.
2. From the File menu, select "Open…"
3. Use the file dialog box to navigate to your downloads folder and select the KMZ file that you downloaded from the Maps ETC website.
4. The historic map will instantly appear in its proper position on Google Earth!
That's great, but the historic map completely covers the section of Google Earth below it. Not to worry. In the column on the left you will notice a slider. With the layer you just added selected, move the slider to change the transparency of the historic map so that the Google Earth imagery can show through to the degree you wish. See how the slider changes the transparency level: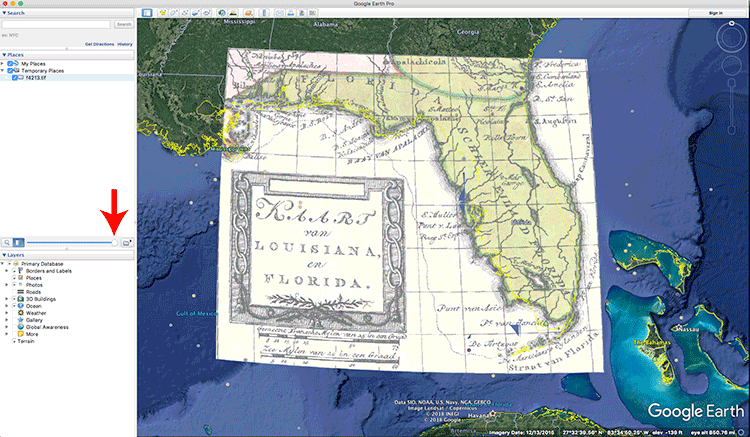 Just under the transparency slider are a number of layer options that you can turn on or off. In the following screenshot, the modern highway system is turned on over a railroad map from 1885. The possibilities of combining historic maps with modern information layers are endless.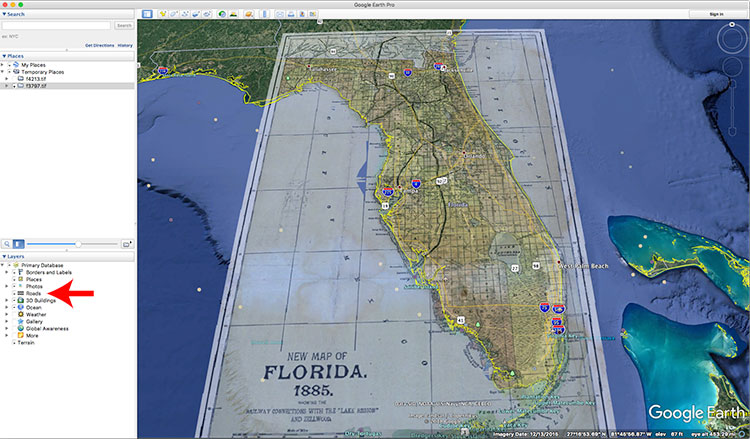 Here are some links to historic Florida maps that include the Google Earth KMZ file:
Roy Winkelman is a 40+ year veteran teacher of students from every level kindergarten through graduate school. As the former Director of FCIT, he began the Center's focus on providing students with rich content collections from which to build their understanding. When not glued to his keyboard, Dr. Winkelman can usually be found puttering around his tomato garden in Pittsburgh. Questions about this post or suggestions for a future topic? Email me at winkelma@usf.edu. To ensure that your email is not blocked, please do not change the subject line. Thank you!
FCIT Newsletter
Each month FCIT publishes a newsletter with short articles on teaching and learning with technology, using digital content in the classroom, and technology integration. Subscribe today! The subscription form will open in a new window. When you have subscribed, you can close the new window to return to this page.