How Conditions in Florida Led to an Economic Boom in the Past and Continue to Help Florida Zoom Toward Future Prosperity
This trace-based case is focused on the following question: What are the conditions that contribute to economic development in Florida? In this case, we are examining conditions that first led toward a boom in the economy in Florida. Then, after examining the past, we will look at today and compare/contrast the economy, looking at the similarities and differences. Finally, as an extension, have students consider some of the current issues in Florida and discuss the implications for the future prosperity of the state.
In a trace-based case, begin with a trace of history, like an artifact, photo, painting, or other visual text. In this case, begin with a photo of the Tampa Bay Hotel. Ask students: What do you see in the image? (evidence) Then we begin to ask more descriptive questions about the trace.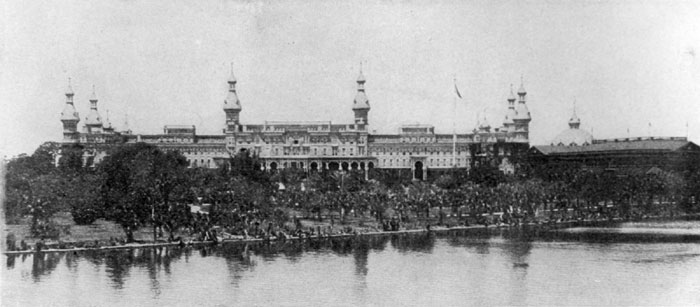 A black and white photo of the entire front of the Tampa Bay Hotel taken from across the Hillsborough River.
Step 1: Descriptive Questions. 
We begin with some descriptive questions. These evidence-based questions provide background information to help students contextualize. However, rather than assigning these questions, work on them together with some group activities that involve a variety of sources, including: artifacts, photos, paintings, maps, charts, graphs, and written primary and secondary sources.
Introduce students to the following:
Using the resources ask:
Who brought railroads to Florida?
Who used the railroads?
When did railroads come to Florida?
Where did they build the railroads?
Step 2: Analysis Questions
. Then ask, What do you think, to get students to make inferences about the trace. Whenever they make an inference, ask them to back up their inference with evidence from the image and caption.
Analysis part 1 begins with why and how questions, which explore the relationship of the parts to the whole.
Why was Florida desirable? (Find various contributing factors: land, weather, resources, transportation, etc.)
Then for each factor, answer:
How did this impact the economic and social development of Florida?
You can use these historical secondary sources in a jigsaw, with groups reading individual documents to find different clues about why Florida was desirable for economic development.
Step 3: Evaluation Questions
. Evaluation questions considers implications, solutions, conclusions, or recommendations. These questions include: What if? What now? What next?
In this section, have students examine the following documents. They compare and contrast the conditions that made Florida boom in the past and what conditions continue to make Florida prosperous.

Florida's Businesses
View SlideShare presentation from Yumonomics
Here is the script to use with the slides:
Slide 1: Read the title slide. Ask students if they have ever heard the terms national or global economy. Based on the photo they analyzed and previous discussion, what might they think a global economy might be? How would that connect to our national economy?
Slide 2: Read the text. Explain that tourism, as well as citrus, cattle and phosphate, are big industries in Florida and help Florida's economy grow. Ask what other types of business are important in the community and state. Explain that businesses in Florida are not only important to Floridians, but that many business are part of a bigger picture in doing business with other states and countries.
Slide 3: Read the text. Discuss what 'technology-related businesses' means. What kinds of technology do students interact with every day? Note that one of the reasons Florida does so much of this kind of business is the large number of college and university degrees awarded in science and technology.
Slide 4: Read the text. Partner talk: What is an entrepreneur? What types of business might entrepreneurs start (refer to previous lesson on entrepreneurs). Connect Florida's college and university system from the last slide (technology) to the work these colleges and universities do in supporting entrepreneurs.
Slide 5: Read the text. Partner talk: How does Florida's geography support the ability to have deep-water ports? What other businesses connect with Florida from other parts of the world?
Slide 6: Read the text. Partner talk: Why does Florida have a so many people who go to college? What do colleges and universities offer that makes people employable?
Slide 7: Read the text. Click on the link to find out more of Florida's connection to the global economy.
Read more about why Florida attracts business:
http://www.floridatrend.com/article/6846/top-10-reasons-to-do-business-in-florida?page=4
U.S. Chamber of Commerce: Florida
http://www.2chambers.com/tourist6.htm
Florida and the Global Economy
https://www.theglobalist.com/florida-and-the-global-economy/
Florida Institute for Commercialization of Public Research
http://www.florida-institute.com/
Extension: Now that you are aware of some of the conditions that made Florida boom in the past and present, what are some of the issues or conditions that are necessary to continue to make Florida prosperous. How can Florida (or your own state or country) zoom into the future?
Dr. Deborah Kozdras has worked with students from K-20 and now provides professional development and creates curriculum for K-12 educators at the University of South Florida Stavros Center.
FCIT Newsletter
Each month FCIT publishes a newsletter with short articles on teaching and learning with technology, using digital content in the classroom, and technology integration. Subscribe today! The subscription form will open in a new window. When you have subscribed, you can close the new window to return to this page.