Distance Learning Resources from FCIT
With schools in many parts of the world closing to reduce infection rates, some teachers are conducting distance learning classes for the first time and many parents are scrambling to find learning activities for their students at home. The Florida Center for Instructional Technology websites are a great place to start looking for online content. Since our sites have over 100,000 pages total, we've pulled together a few suggestions for where to start.
FCIT Digital Content Collections
An important mission of FCIT is to provide students and teachers with high-quality collections of digital content that can be used in class assignments and other projects. These copyright-friendly items become the raw material that students create their projects with. Explore our collections of audiobooks, illustrations, photographs, maps, and other historic documents.
Lit2Go Audiobook Collection
A great resource to start with is Lit2Go. This site offers over 5,500 audio passages arranged in over 200 collections/books. The passages range from kindergarten level through high school. Here you'll find many familiar works traditionally studied in school as well as a number of surprises. The site is easy to search by reading level, title, author, or genre. Keep in mind that if you're using the audio files, a student's "listening level" is usually higher than the reading level. Look for content that supports curriculum needs and interests your children. Note that the passages are also formatted as PDFs for printing and that most passages include a separate PDF with a related student activity. You'll find additional suggestions for using Lit2Go in the following two posts.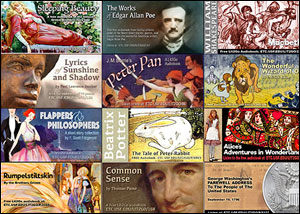 This post contains over a dozen ideas for using passages from Lit2Go in classrooms. Many of these same activities can be used with students at home.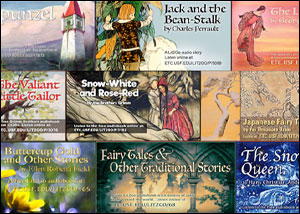 You might think of folk and fairy tales as being just for the youngest students. This post links to Lit2Go passages and activities for students up through eighth grade.
FCIT Teaching Collections

A hundred thousand random pieces of digital content can be a bit overwhelming. To get you and your students started using the digital content, we've pulled together over 150 curated collections of content around various themes such as historical events, authors, or locations. Many of the collections are tied to a specific day of the year, but don't let that stop you from using them at any time. January 2nd may be National Science Fiction day, but The Time Machine is a great read any day.
Off-the-Shelf Activities
Not ready to create your own activities using FCIT's various digital content collections? No problem! Here are some ready-to-use activities for students. Most of these resources can be adapted to a variety of grade levels by teachers or parents.