Parents, if you have children at home due to school closings or vacation periods, the Lit2Go free audiobook website is a great resource to keep students reading and learning. You'll find plenty of age-appropriate reading passages, audio files, and activity sheets there.
The Lit2Go website has a large collection for tenth-grade students. Since there are so many choices on the Lit2Go site, you may want to start with the short list of recommended books and passages below. We've tried to pick classics that many parents will already be familiar with. Maybe some of these were your favorites when you were in high school. Of course, you should also look at the recommendations we've made for other grade levels. You child can probably enjoy materials from several grade levels depending on whether you are using the content as a reading or as a listening activity. Your child's interests and familiarity with the subject of a book or passage should also be taken into account when making selections.
Every Lit2Go passage has an MP3 audio file and the complete text on a webpage. Many also have text PDFs and activities. Here's where you will find the various parts:

The MP3 audio file. You can play this directly in your browser (1A) or download

(1B)

it to use it on any MP3 device.
The written text. The text appears on the webpage

(2A)

and is often also available as a separate downloadable PDF

(2B)

, which can be printed if desired. Your child can read the text, listen to the MP3, or read along with the audio.
Activity sheets. Many passages have a one-page PDF activity (3) for your child.
Please resist the urge to print out all the activity sheets and present your child with stacks of assignments. Think of the activity sheets as helpful suggestions for the types of activities and questions a tenth-grade teacher would typically use with students in a classroom situation. There may be some sheets that you'll want to print and complete together with your child. There will be others that you can view together online and talk through the activity. Some of the activity sheets may just give you a question or two that you'll want to discuss with your child to unpack the meaning of the passage. And others, you may decide to skip completely. Select activities to help your child to develop a love of reading, not view it as a dreaded task.
Some of our favorite books at the tenth-grade reading level
Click the title to go to the free Lit2Go audiobook!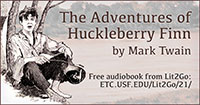 by Mark Twain
The Adventures of Huckleberry Finn is a first person narrative told by the title character, Huckleberry Finn, as he accompanies a runaway slave on his journey to freedom.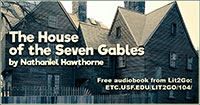 by Nathaniel Hawthorne
The House of the Seven Gables, published in 1851, explores issues of class and the pursuit of wealth against the backdrop of decaying residences.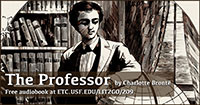 by Charlotte Brontë
The Professor was Charlotte Brontë's first novel, written before Jane Eyre but rejected by publishers until after her death. The book tells the story of a young man named William Crimsworth, from his formative years to his appointment as a teacher at an all-girls school. The story is based upon Brontë's experiences in school.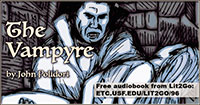 by John Polidori
The Vampyre is a short novel written by John William Polidori and is a progenitor of the romantic vampire genre of fantasy fiction. It was first published on April 1, 1819, by Colburn in the New Monthly Magazine with the false attribution "A Tale by Lord Byron." The name of the work's protagonist, "Lord Ruthven", added to this assumption, for that name was originally used in Lady Caroline Lamb's novel Glenarvon, in which a thinly-disguised Byron figure was also named Lord Ruthven. Despite repeated denials by Byron and Polidori, the authorship often went unclarified.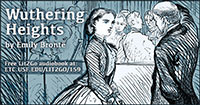 by Emily Brontë
Wuthering Heights is Emily Brontë's only novel. The story is told in layers, a format that has earned the novel much praise despite initial mixed reviews. It is the story of Catherine and Heathcliff and how their unresolved passion eventually destroys them both.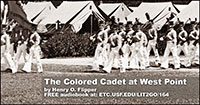 by Henry O. Flipper
The Colored Cadet at West Point is an autobiographical novel detailing the events leading up to Henry O. Flipper's groundbreaking appointment to the West Point Military Academy, and his active service in the U.S. Army that followed graduation.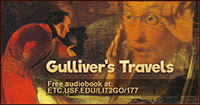 by Jonathan Swift
Gulliver's Travels (1726, amended 1735), officially Travels into Several Remote Nations of the World, is a novel by Jonathan Swift that is both a satire on human nature and a parody of the "travellers' tales" literary sub-genre. It is widely considered Swift's magnum opus (masterpiece) and is his most celebrated work, as well as one of the indisputable classics of English literature.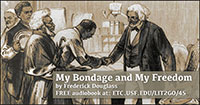 by Frederick Douglass
My Bondage and My Freedom is an autobiographical slave narrative written by Frederick Douglass and published in 1855. It is the second of three autobiographies written by Douglass, and is mainly an expansion of his first (Narrative of the Life of Frederick Douglass), discussing in greater detail his transition from bondage to liberty. Douglass, a former slave, following his liberation went on to become a prominent abolitionist, speaker, author, and publisher.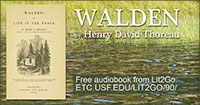 by Henry David Thoreau
Walden (also known as Walden; or, Life in the Woods) by Henry David Thoreau is one of the best-known non-fiction books written by an American. Published in 1854, it details Thoreau's life for two years, two months, and two days in second-growth forest around the shores of Walden Pond, on land owned by Ralph Waldo Emerson, not far from his friends and family in Concord, Massachusetts. Walden was written so that the stay appears to be a year, with expressed seasonal divisions. Thoreau called it an experiment in simple living. Thoreau lived in close geographical proximity to the town Concord: "living a mile from any neighbor," should be taken literally; he lived about a mile from his neighbors. He did not go into the woods to become a hermit, but to isolate himself from civil society in order to gain a more objective understanding of it. Walden is neither a novel nor a true autobiography, but a social critique of much of the contemporary Western World, with its consumerist attitudes and its distance from and destruction of nature.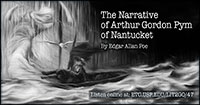 by Edgar Allan Poe
The Narrative of Arthur Gordon Pym of Nantucket is the only complete novel written by American writer Edgar Allan Poe. The work relates the tale of the young Arthur Gordon Pym who stows away aboard a whaling ship called Grampus. Various adventures and misadventures befall Pym including shipwreck, mutiny, and cannibalism before he is saved by the crew of the Jane Guy. Aboard this vessel, Pym and a sailor named Dirk Peters continue their adventures further south. Docking on land, they encounter hostile black-skinned natives before escaping back to the ocean. The novel ends abruptly as Pym and Peters continue towards the South Pole.
Some of our favorite poems and short passages at the tenth-grade reading level
Click the title to go to the free Lit2Go audiobook!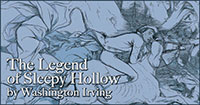 by Washington Irving
A superstitious schoolteacher comes to a mysterious end in the isolated glen of Sleepy Hollow.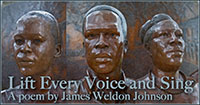 by James Weldon Johnson
A poem describing the perils our fathers went through to keep their homeland free.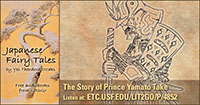 by Yei Theodora Ozaki
A story of how Prince Take got his name and many of his daring deeds.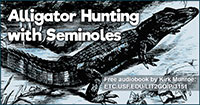 by Kirk Munroe
An experience of hunting with Seminole Indians in Florida
This page is just a very small part of the Lit2Go collection for grade ten. There is LOTS MORE on the Lit2Go website!
Please keep in mind that the reading level of the books and passages you'll find here was determined by the Flesch-Kincaid mathematical formula that considers only the length of words and sentences. It can be a good starting point for finding passages suitable for your child, but it's only a suggestion. Just because your child is in tenth grade does not mean that a particular passage listed as tenth-grade reading level is appropriate. Your child's ability to enjoy a particular passage depends on several other factors, including: background knowledge, interest in the subject matter, text genre, and the level of support provided during reading.
Roy Winkelman is a 40+ year veteran teacher of students from every level kindergarten through graduate school. As the former Director of FCIT, he began the Center's focus on providing students with rich content collections from which to build their understanding. When not glued to his keyboard, Dr. Winkelman can usually be found puttering around his tomato garden in Pittsburgh. Questions about this post or suggestions for a future topic? Email me at winkelma@usf.edu. To ensure that your email is not blocked, please do not change the subject line. Thank you!
FCIT Newsletter
Each month FCIT publishes a newsletter with short articles on teaching and learning with technology, using digital content in the classroom, and technology integration. Subscribe today! The subscription form will open in a new window. When you have subscribed, you can close the new window to return to this page.