Parents, if you have children at home due to school closings or vacation periods, the Lit2Go free audiobook website is a great resource to keep students reading and learning. You'll find plenty of age-appropriate reading passages, audio files, and activity sheets there.
The Lit2Go website has a large collection for fifth-grade students. Since there are so many choices on the Lit2Go site, you may want to start with the short list of recommended books and passages below. We've tried to pick classics that many parents will already be familiar with. Maybe some of these were your favorites when you were younger. Of course, you should also look at the recommendations we've made for other grade levels. You child can probably enjoy materials from several grade levels depending on whether you are using the content as a reading or as a listening activity. Your child's interests and familiarity with the subject of a book or passage should also be taken into account when making selections.
Every Lit2Go passage has an MP3 audio file and the complete text on a webpage. Many also have text PDFs and activities. Here's where you will find the various parts:

The MP3 audio file. You can play this directly in your browser (1A) or download

(1B)

it to use it on any MP3 device.
The written text. The text appears on the webpage

(2A)

and is often also available as a separate downloadable PDF

(2B)

, which can be printed if desired. Your child can read the text, listen to the MP3, or read along with the audio.
Activity sheets. Many passages have a one-page PDF activity (3) for your child.
Please resist the urge to print out all the activity sheets and present your child with stacks of assignments. Think of the activity sheets as helpful suggestions for the types of activities and questions a fifth-grade teacher would typically use with students in a classroom situation. There may be some sheets that you'll want to print and complete together with your child. There will be others that you can view together online and talk through the activity. Some of the activity sheets may just give you a question or two that you'll want to discuss with your child to unpack the meaning of the passage. And others, you may decide to skip completely. Select activities to help your child to develop a love of reading, not view it as a dreaded task.
Some of our favorite books at the fifth-grade reading level
Click the title to go to the free Lit2Go audiobook!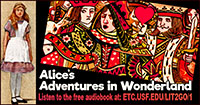 by Lewis Carroll
Alice's Adventures in Wonderland is a work of children's literature by the English mathematician and author, Reverend Charles Lutwidge Dodgson, written under the pseudonym Lewis Carroll. It tells the story of a girl named Alice who falls down a rabbit-hole into a fantasy realm populated by talking playing cards and anthropomorphic creatures. The tale is filled with satirical allusions to Dodgson's friends and to the lessons that British schoolchildren were expected to memorize. The Wonderland described in the tale plays with logic in ways that has made the story of lasting popularity with children as well as adults. The book is often referred to by the abbreviated title Alice in Wonderland.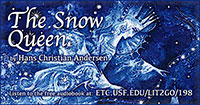 by Hans Christian Andersen
The Snow Queen is a fairy tale written by Hans Christian Andersen and first published in 1845. The story centers on the struggle between good and evil as taken on by a little boy and girl, Gerda and Kay.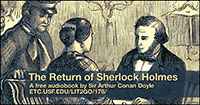 by Sir Arthur Conan Doyle
The book was first published in 1905 and was the first Holmes collection since 1893, when Holmes had "died" in "The Final Problem". The first story is set in 1894 and has Holmes returning in London and explaining the period from 1891–1894, a period called "The Great Hiatus" by Sherlockian enthusiasts. Also of note is Watson's statement in the last story of the cycle that Holmes has retired, and forbids him to publish any more stories.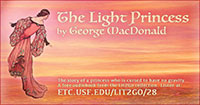 by George MacDonald
A princess is cursed to have no gravity.
Some of our favorite poems and short passages at the fifth-grade reading level
Click the title to go to the free Lit2Go audiobook!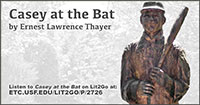 by Ernest Lawrence Thayer
The Mudville Nine's star player is their only hope for winning the game.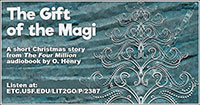 by O. Henry
A couple makes personal sacrifices to give each other gifts for Christmas.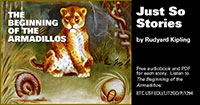 A Just So Story by Rudyard Kipling
Tortoise and Painted Jaguar come across a new kind of creature in the woods and try to decide what it is with the help of Mother Jaguar.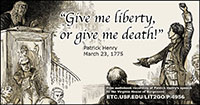 by Patrick Henry
A transcription of Patrick Henry's famous "Give me liberty or give me death!" speech made before the Virginia House of Burgesses.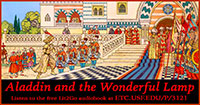 A traditional tale
An impoverished young man named Aladdin is recruited by a sorcerer to retrieve a lamp from a magic cave. After the sorcerer attempts to double-cross him, Aladdin keeps the lamp for himself, and discovers that it summons a surly djinn that is bound to do the bidding of the person holding the lamp. With the aid of the djinn, Aladdin becomes rich and powerful and marries princess Badroulbadour. The sorcerer returns and is able to get his hands on the lamp by tricking Aladdin's wife, who is unaware of the lamp's importance. Aladdin discovers a lesser, polite djinn is summoned by a ring loaned to him by the sorcerer but forgotten during the double-cross. Assisted by the lesser djinn, Aladdin recovers his wife and the lamp.
This page is just a very small part of the Lit2Go collection for Grade Five. There is LOTS MORE on the Lit2Go website!
Please keep in mind that the reading level of the books and passages you'll find here was determined by the Flesch-Kincaid mathematical formula that considers only the length of words and sentences. It can be a good starting point for finding passages suitable for your child, but it's only a suggestion. Just because your child is in fifth grade does not mean that a particular passage listed as fifth-grade reading level is appropriate. Your child's ability to enjoy a particular passage depends on several other factors, including: background knowledge, interest in the subject matter, text genre, and the level of support provided during reading.
Roy Winkelman is a 40+ year veteran teacher of students from every level kindergarten through graduate school. As the former Director of FCIT, he began the Center's focus on providing students with rich content collections from which to build their understanding. When not glued to his keyboard, Dr. Winkelman can usually be found puttering around his tomato garden in Pittsburgh. Questions about this post or suggestions for a future topic? Email me at winkelma@usf.edu. To ensure that your email is not blocked, please do not change the subject line. Thank you!
FCIT Newsletter
Each month FCIT publishes a newsletter with short articles on teaching and learning with technology, using digital content in the classroom, and technology integration. Subscribe today! The subscription form will open in a new window. When you have subscribed, you can close the new window to return to this page.