Parents, if you have children at home due to school closings or vacation periods, the Lit2Go free audiobook website is a great resource to keep students reading and learning. You'll find plenty of age-appropriate reading passages, audio files, and activity sheets there.
The Lit2Go website has a large collection for eighth-grade students. Since there are so many choices on the Lit2Go site, you may want to start with the short list of recommended books and passages below. We've tried to pick classics that many parents will already be familiar with. Maybe some of these were your favorites when you were younger. Of course, you should also look at the recommendations we've made for other grade levels. You child can probably enjoy materials from several grade levels depending on whether you are using the content as a reading or as a listening activity. Your child's interests and familiarity with the subject of a book or passage should also be taken into account when making selections.
Every Lit2Go passage has an MP3 audio file and the complete text on a webpage. Many also have text PDFs and activities. Here's where you will find the various parts:

The MP3 audio file. You can play this directly in your browser (1A) or download

(1B)

it to use it on any MP3 device.
The written text. The text appears on the webpage

(2A)

and is often also available as a separate downloadable PDF

(2B)

, which can be printed if desired. Your child can read the text, listen to the MP3, or read along with the audio.
Activity sheets. Many passages have a one-page PDF activity (3) for your child.
Please resist the urge to print out all the activity sheets and present your child with stacks of assignments. Think of the activity sheets as helpful suggestions for the types of activities and questions an eighth-grade teacher would typically use with students in a classroom situation. There may be some sheets that you'll want to print and complete together with your child. There will be others that you can view together online and talk through the activity. Some of the activity sheets may just give you a question or two that you'll want to discuss with your child to unpack the meaning of the passage. And others, you may decide to skip completely. Select activities to help your child to develop a love of reading, not view it as a dreaded task.
Some of our favorite books at the eighth-grade reading level
Click the title to go to the free Lit2Go audiobook!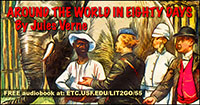 by Jules Verne
Around the World in 80 Days (French: Le tour du monde en quatre-vingts jours) is a classic adventure novel by the French writer Jules Verne, first published in 1873. In the story, Phileas Fogg of London and his newly employed French valet Passepartout attempt to circumnavigate the world in 80 days on a £20,000 wager set by his friends at the Reform Club.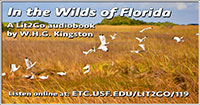 by W.H.G. Kingston
In the Wilds of Florida is a tale of an Irish schoolboy who leaves school and his struggling family in Ireland to come to America. He experiences a Florida where fighting still erupts between Cherokee and Seminole Indians, where white people are under threat of Indian attack, and the landscape is mostly swamp or plains of dense brush.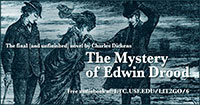 by Charles Dickens
The Mystery of Edwin Drood, Dickens's final novel was left unfinished before his death in 1871. Edwin Drood's uncle, John Jasper, a choirmaster, is in love with his pupil and Drood's fiancee Rosa Bud. She has also caught the eye of high-spirited and ill-tempered Neville Landless (who came from Ceylon with his twin sister Helena). When Drood is murdered, the killer must be found…that is if Drood is really dead.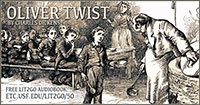 by Charles Dickens
Oliver Twist is Charles Dickens' second novel. It is about a boy named Oliver Twist, who escapes from a workhouse and meets a gang of pickpockets in London. The novel is one of Dickens's most well-known works, and has been the subject of numerous film and television adaptations.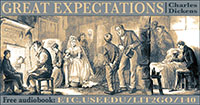 by Charles Dickens
Great Expectations follows Pip's life expectations as he attempts to fit in with upper class society, while pining for the affection of Estella.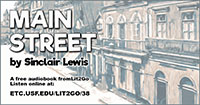 by Sinclair Lewis
Main Street is a satirical novel about small-town life, and is notable for the presence of a strong female protagonist.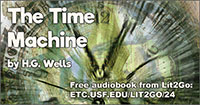 by H.G. Wells
The Time Machine is a book by H. G. Wells, first published in 1895The book's protagonist is an amateur inventor or scientist living in London identified simply as The Time Traveller. Having demonstrated to friends using a miniature model that time is a fourth dimension, and that a suitable apparatus can move back and forth in this fourth dimension, he completes the building of a larger machine capable of carrying himself. He then immediately sets off on a journey into the future.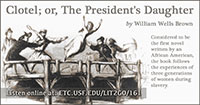 by William Wells Brown
Clotel; or, The President's Daughter is a novel by William Wells Brown (1815 – 1884), a fugitive from slavery and abolitionist and was published in London, England in December 1853. It gained notoriety amid the unconfirmed rumors regarding Thomas Jefferson and Sally Hemmings. Brown was still considered someone else's legal property within the borders of the United States at the time of its publication. It is considered to be the first novel written by an African American. The book follows the experiences of three generations of women during slavery.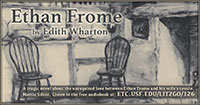 by Edith Wharton
Ethan Frome is a tragic novel about the unrequited love between Ethan Frome and his wife's cousin, Mattie Silver.
This novel has elements in common with gothic fiction, realism, modernism, romance, and tragedy.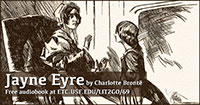 by Charlotte Brontë
Jane Eyre is a classic novel by Charlotte Brontë which was published in 1847. Jane Eyre, an orphan, must find her own way in the world while learning about friendship, family, love, trust, societal roles–and how to deal with dark secr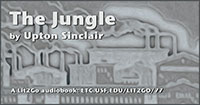 by Upton Sinclair
The Jungle is a novel by American author and socialist Upton Sinclair. It describes the life of a family of Lithuanian immigrants working in Chicago's Union Stock Yards at the beginning of the 20th century. The novel depicts in harsh tones the poverty, complete absence of social security, scandalous living and working conditions, and generally utter hopelessness prevalent among the have-nots, which is contrasted with the deeply-rooted corruption on the part of the haves. The sad state of turn-of-the-century labor is placed front and center for the American public to see suggesting that something needed to be changed to get rid of American "wage slavery". The novel is also an important example of the "muckraking" tradition begun by journalists such as Jacob Riis. Sinclair wanted to show how the mainstream parties of American politics, already being tied into the industrial-capitalist machine, offered little means for progressive change. As such the book is deeply supportive of values and criticisms held by Communism, a movement still in its infancy at the time.
Some of our favorite poems and short passages at the eighth-grade reading level
Click the title to go to the free Lit2Go audiobook!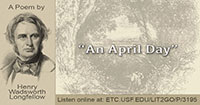 by Henry Wadsworth Longfellow
The poet celebrates spring, as nature recovers from the harshness of winter.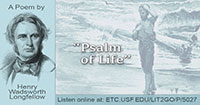 by Henry Wadsworth Longfellow
Live fully; get out and do things. The purpose of life is to live it.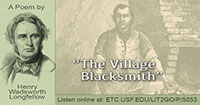 by Henry Wadsworth Longfellow
This is a poem about life from the focus of a widowed father and a wage earner (smithy) who works hard and steadily, earning from his effort.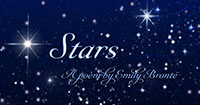 by Emily Brontë
The speaker contrasts night and day.
by Edgar Allan Poe
"Over the mountains Of the Moon,
Down the Valley of the Shadow,
Ride, boldly ride,"The shade replied—
"If you seek for Eldorado!"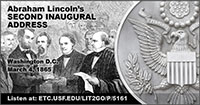 by Abraham Lincoln
Abraham Lincoln delivered his second inaugural address on March 4, 1865, during his inauguration at the start of his second term as President of the United States.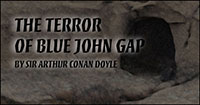 by Sir Arthur Conan Doyle
A story written in the form of a personal diary that investigates the strange disappearances of sheep into the Blue John Gap.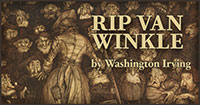 by Washington Irving
An idle villager experiences some strange events while taking a walk in the mountains.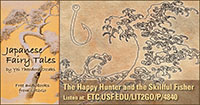 by Yei Theodora Ozaki
The brothers The Happy Hunter and The Skillful Fisherman change occupational places one day. The Hunter does not know how to fish, and loses his brother's hook. The Skillful Fisherman is very angry and demands his hook back. The Hunter searches and searches to no avail, until an old man appears and tells him to travel to the Sea King's realm to find the hook. He does so, and finds the hook and makes many new friends. He stays in the Sea King's realm for three years, and then he returns to land. He gives the hook to his brother, and the brother is angry that he no longer has an excuse to steal his brother's wealth and title. The Skillful Fisherman then plots to kill his brother, but the Happy Hunter thwarts his plan by using talismans given to him by the Sea King. The Skillful Fisherman is thus impressed by his brother's power and vows to be obedient to him from then on.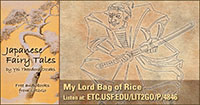 by Yei Theodora Ozaki
A Japanese warrior defends the Dragon King by killing his enemy, the monster centipede. In gratitude the Dragon King gives the warrior several presents, including a bag of rice that never runs out, and he comes to be known as My Lord Bag of Rice.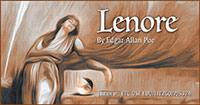 by Edgar Allan Poe
"Ah broken is the golden bowl! the spirit flown forever!"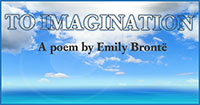 by Emily Brontë
The speaker describes the pleasures of imagination.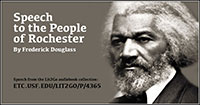 by Frederick Douglass
Excerpt from Frederick Douglass' speech outlining the hypocritical nature of slavery in the United States of America.
This page is just a very small part of the Lit2Go collection for Grade Eight. There is LOTS MORE on the Lit2Go website!
Please keep in mind that the reading level of the books and passages you'll find here was determined by the Flesch-Kincaid mathematical formula that considers only the length of words and sentences. It can be a good starting point for finding passages suitable for your child, but it's only a suggestion. Just because your child is in eighth grade does not mean that a particular passage listed as eighth-grade reading level is appropriate. Your child's ability to enjoy a particular passage depends on several other factors, including: background knowledge, interest in the subject matter, text genre, and the level of support provided during reading.
Roy Winkelman is a 40+ year veteran teacher of students from every level kindergarten through graduate school. As the former Director of FCIT, he began the Center's focus on providing students with rich content collections from which to build their understanding. When not glued to his keyboard, Dr. Winkelman can usually be found puttering around his tomato garden in Pittsburgh. Questions about this post or suggestions for a future topic? Email me at winkelma@usf.edu. To ensure that your email is not blocked, please do not change the subject line. Thank you!
FCIT Newsletter
Each month FCIT publishes a newsletter with short articles on teaching and learning with technology, using digital content in the classroom, and technology integration. Subscribe today! The subscription form will open in a new window. When you have subscribed, you can close the new window to return to this page.