Parents, if you have children at home due to school closings or vacation periods, the Lit2Go free audiobook website is a great resource to keep students reading and learning. You'll find plenty of age-appropriate reading passages, audio files, and activity sheets there.
The Lit2Go website has a large collection for seventh-grade students. Since there are so many choices on the Lit2Go site, you may want to start with the short list of recommended books and passages below. We've tried to pick classics that many parents will already be familiar with. Maybe some of these were your favorites when you were younger. Of course, you should also look at the recommendations we've made for other grade levels. You child can probably enjoy materials from several grade levels depending on whether you are using the content as a reading or as a listening activity. Your child's interests and familiarity with the subject of a book or passage should also be taken into account when making selections.
Every Lit2Go passage has an MP3 audio file and the complete text on a webpage. Many also have text PDFs and activities. Here's where you will find the various parts:

The MP3 audio file. You can play this directly in your browser (1A) or download

(1B)

it to use it on any MP3 device.
The written text. The text appears on the webpage

(2A)

and is often also available as a separate downloadable PDF

(2B)

, which can be printed if desired. Your child can read the text, listen to the MP3, or read along with the audio.
Activity sheets. Many passages have a one-page PDF activity (3) for your child.
Please resist the urge to print out all the activity sheets and present your child with stacks of assignments. Think of the activity sheets as helpful suggestions for the types of activities and questions a seventh-grade teacher would typically use with students in a classroom situation. There may be some sheets that you'll want to print and complete together with your child. There will be others that you can view together online and talk through the activity. Some of the activity sheets may just give you a question or two that you'll want to discuss with your child to unpack the meaning of the passage. And others, you may decide to skip completely. Select activities to help your child to develop a love of reading, not view it as a dreaded task.
Some of our favorite books at the seventh-grade reading level
Click the title to go to the free Lit2Go audiobook!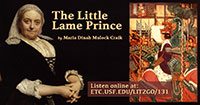 by Maria Dinah Mulock Craik
The Little Lame Prince and his Travelling Cloak (often published under its shorter title The Little Lame Prince) is a story for children written by Dinah Maria Mulock Craik and first published in 1875. In the story, a young prince whose legs are paralysed due to a childhood trauma is given a magical travelling cloak by his fairy godmother; he uses this cloak to go on various adventures, and develops great wisdom and empathy in the process.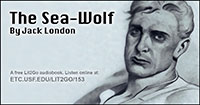 by Jack London
The Sea-Wolf is a psychological adventure novel by American novelist Jack London about a literary critic and other survivors of an ocean collision who come under the dominance of Wolf Larsen, the powerful and amoral sea captain who rescues them.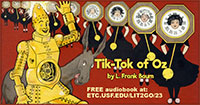 by L. Frank Baum
Tik-Tok of Oz is the eighth Land of Oz book written by L. Frank Baum. Published in 1914, the book actually has little to do with Tik-Tok and is primarily the quest of the Shaggy Man (introduced in The Road to Oz) to rescue his brother, and his resulting conflict with the Nome King.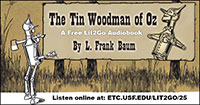 by L. Frank Baum
The Tin Woodman of Oz is the twelfth Land of Oz book written by L. Frank Baum and was originally published in 1918. The Tin Woodman is unexpectedly reunited with his Munchkin sweetheart Nimmie Amee from the days when he was flesh and blood. This was a backstory from The Wizard of Oz.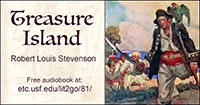 by Robert Louis Stevenson
Treasure Island is an adventure novel by Robert Louis Stevenson, narrating a tale of "buccaneers and buried gold." Traditionally considered a coming of age story, its influence on popular lore about pirates can not be overestimated.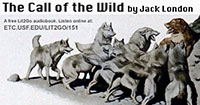 by Jack London
The Call of the Wild is a novel by American writer Jack London. The plot concerns a previously domesticated happy dog named Buck, whose primordial instincts return after a series of events leads to his serving as a sled dog in the Yukon during the 19th-century Klondike Gold Rush, in which sled dogs were bought at generous prices.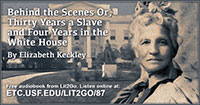 by Elizabeth Keckley
Behind the Scenes Or, Thirty Years a Slave and Four Years in the White House is an autobiographical narrative by Elizabeth Keckley. In it she tells the story of her life as a slave and her time as a seamstress for Mrs. Lincoln in the White House.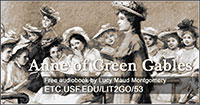 by Lucy Maud Montgomery
Anne of Green Gables is a coming-of-age novel about Anne Shirley, the Cuthbert's, and the community of Avonlea on Prince Edward Island.
by Charles Dickens
David Copperfield is a novel by Charles Dickens. Like most of his works, it originally appeared in serial form a year earlier. Many elements within the novel follow events in Dickens' own life, and it is probably the most autobiographical of all of his novels.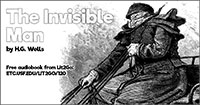 by H.G. Wells
The Invisible Man is a suspense novel by H.G. Wells, narrating the tale of "Griffin", a scientist who undergoes an irreversible procedure, the results of which eventually drive him insane.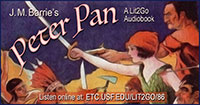 by J.M. Barrie
Peter Pan (also known as The Boy Who Wouldn't Grow Up or Peter and Wendy) is the story of a mischievous little boy who can fly, and his adventures on the island of Neverland with Wendy Darling and her brothers, the fairy Tinker Bell, the Lost Boys, the Indian princess Tiger Lily, and the pirate Captain Hook.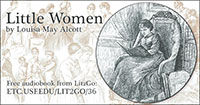 by Louisa May Alcott

Little Women concerns the lives and loves of four sisters growing up during the American Civil War. It was based on Alcott's own experiences as a child in Germantown, Pennsylvania with her three sisters, Anna, May, and Elizabeth.
Some of our favorite short passages at the seventh-grade reading level
Click the title to go to the free Lit2Go audiobook!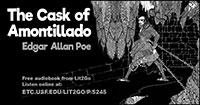 by Edgar Allan Poe
Fortunato pays the price for insulting the Montressor family name.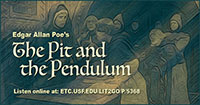 by Edgar Allan Poe

About the torments endured by a prisoner of the revived Spanish Inquisition.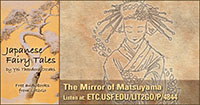 by Yei Theodora Ozaki
A husband gives his wife a mirror, and when she is on her deathbed, she gives it to her daughter. The daughter thinks she sees her mother's soul in it and spends much time staring into it after her father remarries. The stepmother begins resenting the daughter's relationship with her father and starts to hate her; she thinks the daughter is doing black magic to curse her, and she tells the father of it. The father confronts the daughter, and he finally realizes that the daughter is innocent and is simply still brokenhearted over her mother's death. The stepmother is moved by the daughter's story to renounce her hate, and the father, stepmother, and daughter finally become a happy family.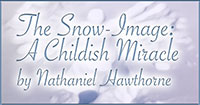 by Nathaniel Hawthorne
Two children, Violet and Peony, construct a girl out of snow. This snow-image comes to life, however, their parents think she is a human girl and bring her inside where she promptly melts.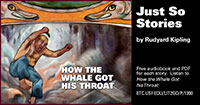 by Rudyard Kipling
A whale eats a crafty man, who finds a way to escape and dam up the whale's throat.
This page is just a very small part of the Lit2Go collection for Grade Seven. There is LOTS MORE on the Lit2Go website!
Please keep in mind that the reading level of the books and passages you'll find here was determined by the Flesch-Kincaid mathematical formula that considers only the length of words and sentences. It can be a good starting point for finding passages suitable for your child, but it's only a suggestion. Just because your child is in seventh grade does not mean that a particular passage listed as seventh-grade reading level is appropriate. Your child's ability to enjoy a particular passage depends on several other factors, including: background knowledge, interest in the subject matter, text genre, and the level of support provided during reading.
Roy Winkelman is a 40+ year veteran teacher of students from every level kindergarten through graduate school. As the former Director of FCIT, he began the Center's focus on providing students with rich content collections from which to build their understanding. When not glued to his keyboard, Dr. Winkelman can usually be found puttering around his tomato garden in Pittsburgh. Questions about this post or suggestions for a future topic? Email me at winkelma@usf.edu. To ensure that your email is not blocked, please do not change the subject line. Thank you!
FCIT Newsletter
Each month FCIT publishes a newsletter with short articles on teaching and learning with technology, using digital content in the classroom, and technology integration. Subscribe today! The subscription form will open in a new window. When you have subscribed, you can close the new window to return to this page.