Parents, if you have children at home due to school closings or vacation periods, the Lit2Go free audiobook website is a great resource to keep students reading and learning. You'll find plenty of age-appropriate reading passages, audio files, and activity sheets there.
The Lit2Go website has a large collection for sixth-grade students. Since there are so many choices on the Lit2Go site, you may want to start with the short list of recommended books and passages below. We've tried to pick classics that many parents will already be familiar with. Maybe some of these were your favorites when you were younger. Of course, you should also look at the recommendations we've made for other grade levels. You child can probably enjoy materials from several grade levels depending on whether you are using the content as a reading or as a listening activity. Your child's interests and familiarity with the subject of a book or passage should also be taken into account when making selections.
Every Lit2Go passage has an MP3 audio file and the complete text on a webpage. Many also have text PDFs and activities. Here's where you will find the various parts:

The MP3 audio file. You can play this directly in your browser (1A) or download

(1B)

it to use it on any MP3 device.
The written text. The text appears on the webpage

(2A)

and is often also available as a separate downloadable PDF

(2B)

, which can be printed if desired. Your child can read the text, listen to the MP3, or read along with the audio.
Activity sheets. Many passages have a one-page PDF activity (3) for your child.
Please resist the urge to print out all the activity sheets and present your child with stacks of assignments. Think of the activity sheets as helpful suggestions for the types of activities and questions a sixth-grade teacher would typically use with students in a classroom situation. There may be some sheets that you'll want to print and complete together with your child. There will be others that you can view together online and talk through the activity. Some of the activity sheets may just give you a question or two that you'll want to discuss with your child to unpack the meaning of the passage. And others, you may decide to skip completely. Select activities to help your child to develop a love of reading, not view it as a dreaded task.
Some of our favorite books at the sixth-grade reading level
Click the title to go to the free Lit2Go audiobook!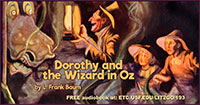 by L. Frank Baum
Dorothy and the Wizard in Oz is the fourth book set in the Land of Oz (though most of the action is outside of it) written by L. Frank Baum and illustrated by John R. Neill. It was published in 1908 and reunites Dorothy with the humbug Wizard from The Wonderful Wizard of Oz. This is one of only two of the original forty Oz books (with The Emerald City of Oz) to be illustrated with watercolor paintings.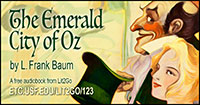 by L. Frank Baum
The Emerald City of Oz is the sixth of L. Frank Baum's fourteen Land of Oz books. Originally published in 1910, it is the story of Dorothy and her Uncle Henry and Aunt Em coming to live in Oz permanently. While they tour through the Quadling Country, the Nome King assembles allies for an invasion of Oz.
Baum had intended to cease writing Oz stories with this book, but financial pressures prompted him to write and publish The Patchwork Girl of Oz, with seven other Oz books to follow.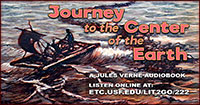 by Jules Verne
Originally published in French in 1864, the first English translation of this classic of adventure and science fiction was published in 1871. The book describes the journey of a scientist, his nephew, and their guide through the Earth's interior by way of volcanic tubes. Along the way, they encounter various threats and wonders, seeing evidence of earlier stages in the planet's development.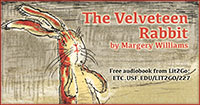 by Margery Williams
The Velveteen Rabbitt, or How Toys Become Real is the story of a toy rabbit that hopes the love of his owner will make him real.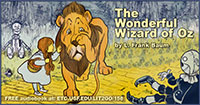 by L. Frank Baum
The Wonderful Wizard of Oz is a children's book written in 1900 by L. Frank Baum and illustrated by W.W. Denslow. It was originally published by the George M. Hill company in Chicago, and has since been reprinted countless times, sometimes under the name The Wizard of Oz. The story chronicles the adventures of a girl named Dorothy in the land of Oz. It is one of the best-known stories in American popular culture and has been widely translated. Its initial success led to Baum's writing and having published thirteen more Oz books.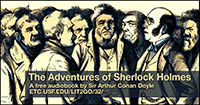 by Sir Arthur Conan Doyle
The Adventures of Sherlock Holmes is a collection of twelve short stories by Arthur Conan Doyle, first published on 14 October 1892. It contains the earliest short stories featuring the consulting detective Sherlock Holmes, which had been published in twelve monthly issues of The Strand Magazine from July 1891 to June 1892.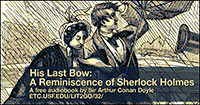 by Sir Arthur Conan Doyle
His Last Bow: Some Reminiscences of Sherlock Holmes is a 1917 collection of previously published Sherlock Holmes stories by Arthur Conan Doyle, including the titular short story, "His Last Bow. The War Service of Sherlock Holmes."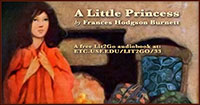 by Frances Hodgson Burnett
Sara Crewe is left in the care of Miss Minchin's Seminary when her father departs for India.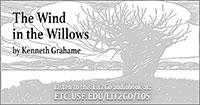 by Kenneth Grahame
The Wind in the Willows is a classic of children's literature by Kenneth Grahame, first published in 1908. Alternately slow moving and fast paced, it focuses on four anthropomorphised animal characters in a pastoral version of England. The novel is notable for its mixture of mysticism, adventure, morality, and camaraderie.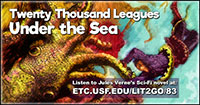 by Jules Verne
Twenty Thousand Leagues Under the Sea (French: Vingt mille lieues sous les mers) is a classic science fiction novel by French writer Jules Verne, published in 1870. It is about the fictional Captain Nemo and his submarine, Nautilus, as seen by one of his passengers, Professor Pierre Aronnax.
Some of our favorite short passages at the sixth-grade reading level
Click the title to go to the free Lit2Go audiobook!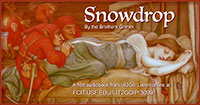 by Grimm Brothers
An evil queen is jealous of her stepdaughter's beauty.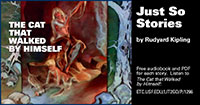 by Rudyard Kipling
A story about the animals in the Wet Wild Woods and how the cat that walked helped domesticate all the wild animals.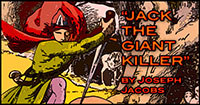 by Joseph Jacobs
A fairy tale about a boy Jack, known as the Giant Killer, and his adventures of escape from giants, magicians, and other horrendous monsters.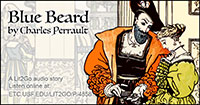 by Charles Perrault
A frightening fairy tale about a cruel man named Blue Beard who won over his wives with his riches and murdered them if they disobeyed his orders.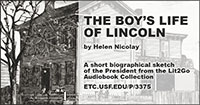 by Helen Nicolay
A short biographical sketch of Abe Lincoln.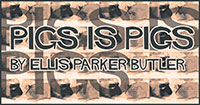 by Ellis Parker Butler
Railway agent Mike Flannery wants to charge the livestock rate for a shipment of two guinea pigs. He refuses to accept the lower pet rate saying "Pigs is Pigs." The grumbling customer complains to the railway company. Meanwhile while the guinea pigs reproduce and eat in Flannery's stationhouse.
This page is just a very small part of the Lit2Go collection for Grade Six. There is LOTS MORE on the Lit2Go website!
Please keep in mind that the reading level of the books and passages you'll find here was determined by the Flesch-Kincaid mathematical formula that considers only the length of words and sentences. It can be a good starting point for finding passages suitable for your child, but it's only a suggestion. Just because your child is in sixth grade does not mean that a particular passage listed as sixth-grade reading level is appropriate. Your child's ability to enjoy a particular passage depends on several other factors, including: background knowledge, interest in the subject matter, text genre, and the level of support provided during reading.
Roy Winkelman is a 40+ year veteran teacher of students from every level kindergarten through graduate school. As the former Director of FCIT, he began the Center's focus on providing students with rich content collections from which to build their understanding. When not glued to his keyboard, Dr. Winkelman can usually be found puttering around his tomato garden in Pittsburgh. Questions about this post or suggestions for a future topic? Email me at winkelma@usf.edu. To ensure that your email is not blocked, please do not change the subject line. Thank you!
FCIT Newsletter
Each month FCIT publishes a newsletter with short articles on teaching and learning with technology, using digital content in the classroom, and technology integration. Subscribe today! The subscription form will open in a new window. When you have subscribed, you can close the new window to return to this page.