Parents, if you have children at home due to school closings or vacation periods, the Lit2Go free audiobook website is a great resource to keep students reading and learning. You'll find plenty of age-appropriate reading passages, audio files, and activity sheets there.
The Lit2Go website has a large collection for fourth-grade students. Since there are so many choices on the Lit2Go site, you may want to start with the short list of recommended books and passages below. We've tried to pick classics that many parents will already be familiar with. Maybe some of these were your favorites when you were younger. Of course, you should also look at the recommendations we've made for other grade levels. You child can probably enjoy materials from several grade levels depending on whether you are using the content as a reading or as a listening activity. Your child's interests and familiarity with the subject of a book or passage should also be taken into account when making selections.
Every Lit2Go passage has an MP3 audio file and the complete text on a webpage. Many also have text PDFs and activities. Here's where you will find the various parts:

The MP3 audio file. You can play this directly in your browser (1A) or download

(1B)

it to use it on any MP3 device.
The written text. The text appears on the webpage

(2A)

and is often also available as a separate downloadable PDF

(2B)

, which can be printed if desired. Your child can read the text, listen to the MP3, or read along with the audio.
Activity sheets. Many passages have a one-page PDF activity (3) for your child.
Please resist the urge to print out all the activity sheets and present your child with stacks of assignments. Think of the activity sheets as helpful suggestions for the types of activities and questions a fourth grade teacher would typically use with students in a classroom situation. There may be some sheets that you'll want to print and complete together with your child. There will be others that you can view together online and talk through the activity. Some of the activity sheets may just give you a question or two that you'll want to discuss with your child to unpack the meaning of the passage. And others, you may decide to skip completely. Select activities to help your child to develop a love of reading, not view it as a dreaded task.
Some of our favorite books at the fourth-grade reading level
Click the title to go to the free Lit2Go audiobook!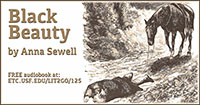 by Anna Sewell
Black Beauty is a novel told in the first person (or "first horse") as an autobiographical memoir told by a highbred horse named Black Beauty-beginning with his carefree days as a colt on an English farm, to his difficult life pulling cabs in London, to his happy retirement in the country.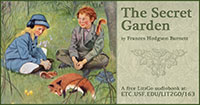 by Frances Hodgson Burnett
The Secret Garden (1909) is one of Frances Hodgson Burnett's most popular novels. The book tells the story of Mary Lennox, a spoiled, contrary, solitary child raised in India but sent to live in her uncle's manor in Yorkshire after her parents' death. She is left to herself by her uncle, Mr. Craven, who travels often to escape the memory of his deceased wife. The only person who has time for Mary is her chambermaid, Martha. It is Martha who tells Mary about Mrs. Craven's walled garden, which has been closed and locked since her death. Mary becomes intrigued by the prospect of the forgotten garden, and her quest to find out the garden's secrets leads her to discover other secrets hidden in the manor. These discoveries combined with the unlikely friendships she makes along the way help Mary come out of her shell and find new fascination with the world around her.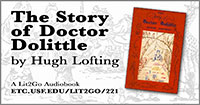 by Hugh Lofting
The Story of Doctor Dolittle is the first of his Doctor Dolittle books, a series of children's novels about a man who learns to talk to animals and becomes their champion around the world.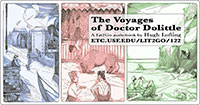 by Hugh Lofting
The Voyages of Doctor Dolittle was the second of Hugh Lofting's Doctor Dolittle books to be published, coming out in 1922. It is nearly four times longer than its predecessor and the writing style is pitched at a more mature audience. The scope of the novel is vast; it is divided into six parts and the illustrations are also more sophisticated. It won the Newbery Medal for 1923.
Some of our favorite poems and short passages at the fourth-grade reading level
Click the title to go to the free Lit2Go audiobook!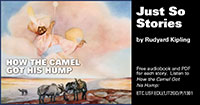 A Just So Story by Rudyard Kipling
A camel refuses to work and only says "humph" in response to requests for work…so a Dijnn gives him a "humph" as punishment for laziness.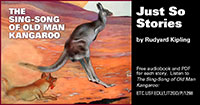 A Just So Story by Rudyard Kiplingx
A fantasy explanation of why the kangaroo is very fast on land.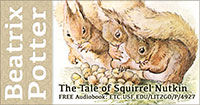 A Peter Rabbit Story by Beatrix Potter
Squirrel Nutkin goes along with a group of squirrels to Owl Island to gather nuts. However, while all the other squirrels are busy collecting nuts, Nutkin is often playing or making mischief. While the other squirrels present the island's resident owl, Old Brown, with gifts to earn his permission to gather nuts, Nutkin dances and taunts the owl with sing-song rhymes. Eventually, after Nutkin annoys Old Brown many times, the owl captures Nutkin and tries to skin him alive. Nutkin escapes but not without getting his tail bitten off.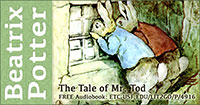 A Peter Rabbit Story by Beatrix Potter
Mr. Tod, a fox, and Tommy Brock, a badger, are both troublesome neighbors and "disagreeable people." Mr. Tod has a habit of taking up lodging in other people's houses. Mr. Brock visits a rabbit friend, who turns out to be Mr. Bouncer Bunny from The Tale of Benjamin Bunny, and then steals his son Benjamin Bunny's children with plans to cook and eat them. Mr. Tod however finds that Mr. Brock has taken up residence in one of his homes, and after many comical efforts to rouse him, they fight it out. Meanwhile, Benjamin and his cousin Peter have come to rescue Benjamin's children, and the fight gives them a chance to sneak off with the baby bunnies.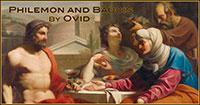 Translated from Metamorphoses by Ovid
A village is preparing for a visit from Zeus. Everyone is too busy or too tired to extend any kindness to two beggars except Philemon and Baucis. This poor old couple has time for the strangers and are rewarded in a very unusual way for their generosity. This story is a translation of "Philemon and Baucis" from Metamorphoses by the Roman poet Ovid.
This page is just a very small part of the Lit2Go collection for Grade Four. There is LOTS MORE on the Lit2Go website!
Please keep in mind that the reading level of the books and passages you'll find here was determined by the Flesch-Kincaid mathematical formula that considers only the length of words and sentences. It can be a good starting point for finding passages suitable for your child, but it's only a suggestion. Just because your child is in fourth grade does not mean that a particular passage listed as fourth-grade reading level is appropriate. Your child's ability to enjoy a particular passage depends on several other factors, including: background knowledge, interest in the subject matter, text genre, and the level of support provided during reading.
Roy Winkelman is a 40+ year veteran teacher of students from every level kindergarten through graduate school. As the former Director of FCIT, he began the Center's focus on providing students with rich content collections from which to build their understanding. When not glued to his keyboard, Dr. Winkelman can usually be found puttering around his tomato garden in Pittsburgh. Questions about this post or suggestions for a future topic? Email me at winkelma@usf.edu. To ensure that your email is not blocked, please do not change the subject line. Thank you!
FCIT Newsletter
Each month FCIT publishes a newsletter with short articles on teaching and learning with technology, using digital content in the classroom, and technology integration. Subscribe today! The subscription form will open in a new window. When you have subscribed, you can close the new window to return to this page.