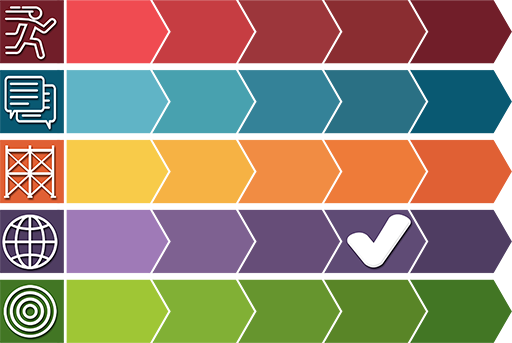 Authentic Learning, Infusion Level
Choice of tools and regular use in meaningful activities
Students. Students select appropriate technology tools to complete activities that have a meaningful context beyond the instructional setting. Students regularly use technology tools, and are comfortable in choosing and using the tools in the most meaningful way for each activity.
Teacher. The teacher encourages students to use technology tools to make connections to the world outside of the instructional setting, and to their lives and interests. The teacher provides a learning context in which students regularly use technology tools and have the freedom to choose the tools that, for each student, best match the task.
Setting. The setting provides a variety of technology tools and ongoing, independent access to a broad range of information, data, and source materials beyond the instructional setting. This access facilitates student pursuit of individual interests and emerging topics.
Graphics representing the Authentic Infusion cell, the Authentic TIM levels, the TIM, and many other related resources are available from the TIM Graphics page in the Resources section.