Menu
---
1. TIM Tools Admin Center
The Admin Center provides for management of the TIM Tools suite of applications.
Overview
Getting Started
Customization
Managing Members
Working with Data
---
2. TUPS
The Technology Uses and Perceptions Survey provides essential information for planning technology infrastructure and support and identifying the perceptions and PD needs of teachers.
---
3. TIM-O / TIM-LP / TIM-R
These three tools are for classroom observation, lesson plan review, and teacher reflection.
Overview
Preparation
TIM-O
TIM-R
TIM-LP
---
4. TIM-C
The TIM-C allows a coach and client to document the goals, activities, progress, and outcomes of a coaching cycle.
---
5. ARTI
The ARTI tool provides a framework for teachers to design and conduct their own action research projects.
---
6. Report Tool
The Report Tool allows a school or district to create TIM-LP, TIM-O, TIM-R, or TUPS reports.
---
7. Survey Tool
The Survey Tool allows a school or district to create internal or external surveys on new topics as needed.
---
Need help?
Have a question?
Email us at TIM@fcit.us anytime. We want to help you get the most out of your TIM Tools account!
TIM Tools 7.5 Administration Guide
Survey Tool Introduction
Our Survey Tool was added in response to client requests for a quick method of creating forms, surveys, and reports within a school or district's TIM Tools instance. As with the other tools in the TIM Tools suite, the site header carries the school or district branding. Clients can now create surveys to share with teachers, administrators, observers, or the general public. Surveys can be built from scratch or users can start with a survey from the included library of sample surveys.
Surveys built with the Survey Tool are intended to supplement, not replace, the Technology Uses and Perceptions Survey (TUPS).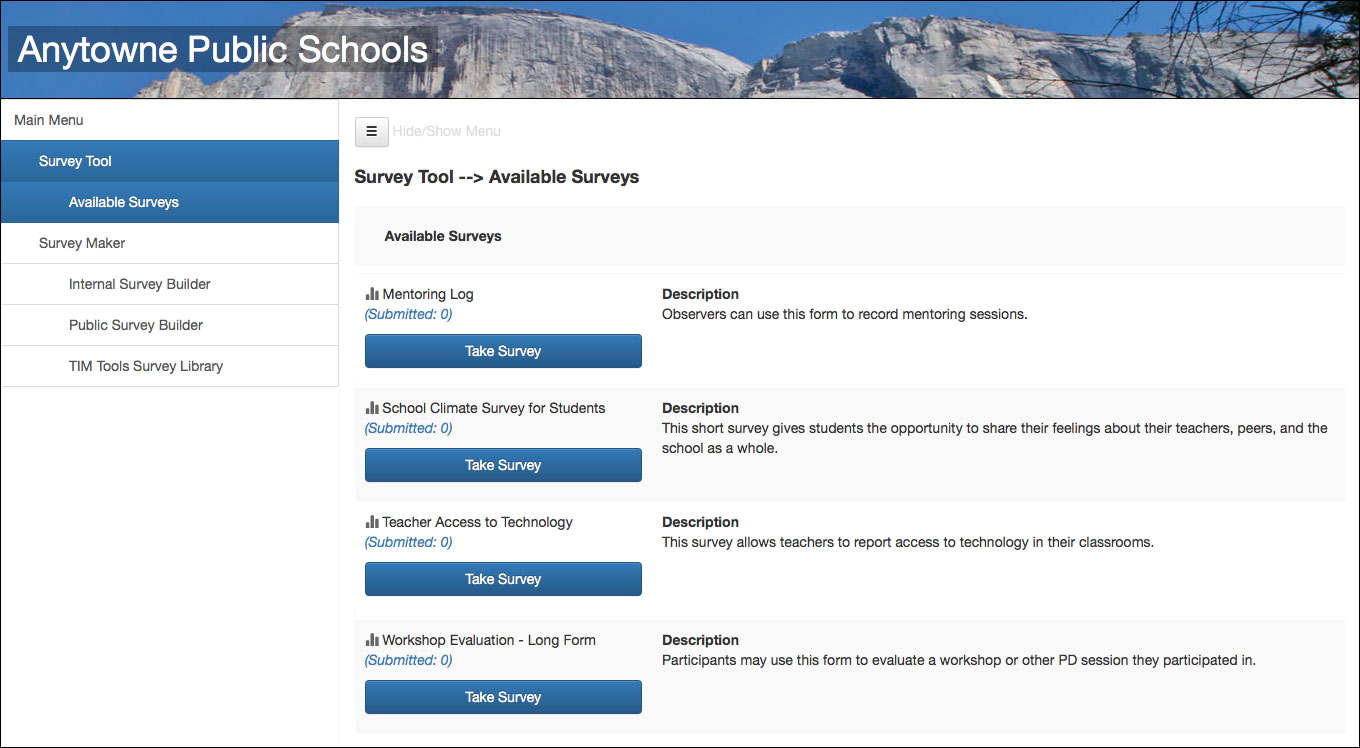 Figure 1. The Survey Tool opens to a list of available surveys.
When you select Survey Tool from the main menu, the tool will open to a list of available surveys. These surveys have been previously created and made live by their authors. You may also see three options for making surveys: Internal Survey Builder, Public Survey Builder, and TIM Tools Survey Library depending on your role's permission settings.
The Internal Survey Builder creates forms and surveys that can be used only by membership in your TIM Tools instance. Examples of internal surveys would include: workshop evaluation surveys, school needs surveys, tech help request forms, or media requests. The creator of an internal survey can restrict its use by role or by location. For example, an internal survey might be made available only to observers or only to members of a particular school or zone. Internal surveys are never available to members of the public.
The default permissions settings for Super Administrator, District Leader, Zone Leader, and School Leader include the ability to create internal surveys. Any roles that are cloned from these four roles can also have access to the Internal Survey Builder.
The Public Survey Builder creates forms and surveys that are accessible to anyone with a web browser. The creator of a public survey can specify that it be open to anyone, or it can be limited to those members of the public with an access code. A district might, for example, create a public survey but limit participants to parents or guardians that were sent an entry code. Examples of public surveys include: school climate surveys, adult volunteer sign-ups, or bullying report forms.
Since these surveys are available to the general public, access to the Public Survey Builder is more tightly controlled than for the Internal Survey Builder. The Super Admin always has access to the Public Survey Builder. Roles cloned from the Super Admin role will also have access, unless that specific permission is deselected.
The TIM Tools Survey Library is a collection of forms and surveys available to TIM Tools users. Any of the Library surveys can be used as is, or it can be edited to meet school or district needs. As with surveys created from scratch, any Library survey can be published as a public survey, a public survey with an entry code, or for any role or combination of roles within your TIM Tools account. If used internally, the survey can also be targeted at a particular combination of schools and/or zones.
For most surveys, you will want to wait until you have all or at least most of the responses before downloading the results as a spreadsheet. However, if you are creating a form (such as a bullying report or help request), you can enter an email address and receive an alert whenever someone submits the survey.
Currently, the Survey Tool allows for five question types: free text response, multiple choice, multiple response, agreement scale, and frequency scale. Future versions of the Survey Tool may include additional question types depending on feedback. Each question type is very flexible. Additional information can be added to any question. Each question can be designated as required or not required, multiple choice and multiple response questions support any number of response options, and the number and labels for both scale questions are completely customizable.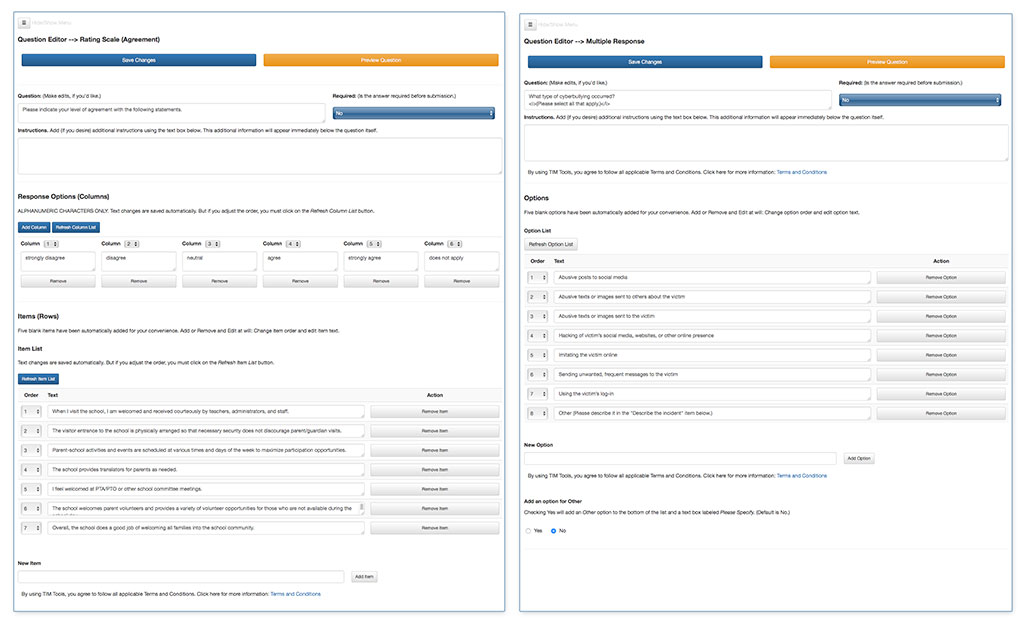 Figure 2. Interface for construction questions: Agreement scale (left) and multiple response (right).
A sixth item type, descriptive text, isn't an actual question. It's a means to inject titles, headings, additional directions, charts, or images into the flow of questions at any point. Survey creators have access to a special collection of graphics we've created for use in their surveys.

Figure 3. Samples from the collection of graphics for use in the Survey Tool.
Each survey automatically includes an introduction and closing page with completely customizable text and images if desired.
Survey results are downloadable in a spreadsheet format that includes the respondent's ID if a TIM Tools member and a participant's IP address if a member of the general public so multiple responses can be filtered. Each submission is also time and date stamped.