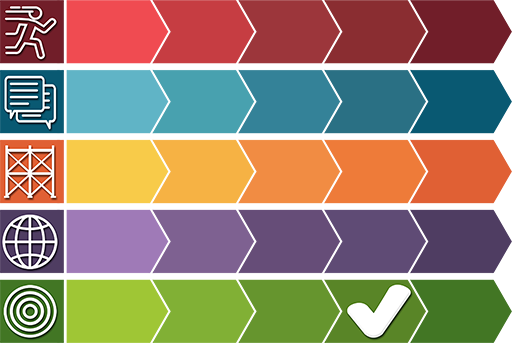 Goal-Directed Learning, Infusion Level
Flexible and seamless use of tools to plan and monitor
Students. Students regularly use technology tools to set goals, plan activities, monitor progress, and evaluate results. The students know how to use, and have access to, a variety of technologies from which they choose. For example, students may choose to write a blog for peer mentoring toward self-selected writing goals.
Teacher. The teacher creates a learning context in which students regularly use technology tools for planning, monitoring, and evaluating learning activities. The teacher facilitates students' selection of technology tools.
Setting. The setting includes access to a variety of technology tools for planning in sufficient quantities to meet the needs of all students.
Graphics representing the Goal-Directed Infusion cell, the Goal-Directed TIM levels, the TIM, and many other related resources are available from the TIM Graphics page in the Resources section.