TIM Tools clients have many options for support when using the Tools:
The built-in directions for each of the Admin Center panels are sufficient to answer most questions.
Telephone support between 8:00 AM and 4:00 PM on weekdays. Just call 813-974-1640.
Email support at TIM@FCIT.us.
But often overlooked is the TIM Tools Resource Center. This is a comprehensive Canvas course that all TIM Tools clients have access to. If you've forgotten your log-on information, shoot us an email at TIM@FCIT.us and we'll be happy to resend it to you. Your Resource Center access may be shared with other administrators in your district.
While most clients prefer just to jump right into the TIM Tools Admin Center to start setting up their instance, we'd suggest that you open the TIM Tools Resource Center at least once when you are starting out just for a quick overview of the functions and capabilities of the Tools. This is especially helpful for new clients. For example, following our recommendations for the order of entering member, school, and zone information can save much time later. Experienced clients would also do well to review the Resource Center from time to time. Sometimes clients get so involved with using one part of TIM Tools that they forget there are other parts available to them.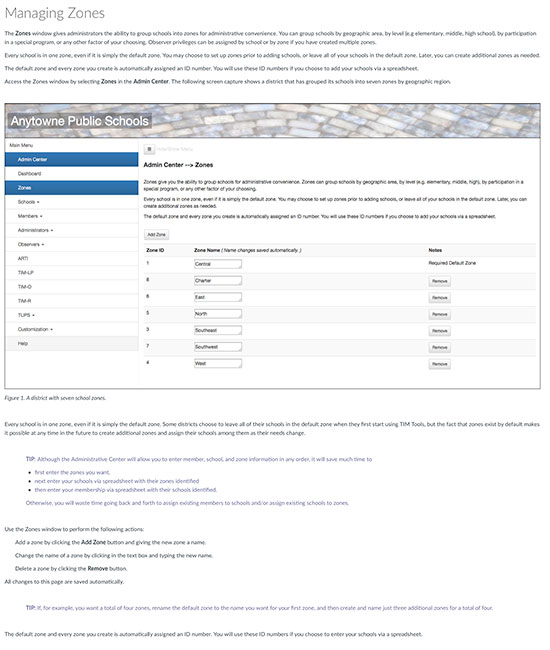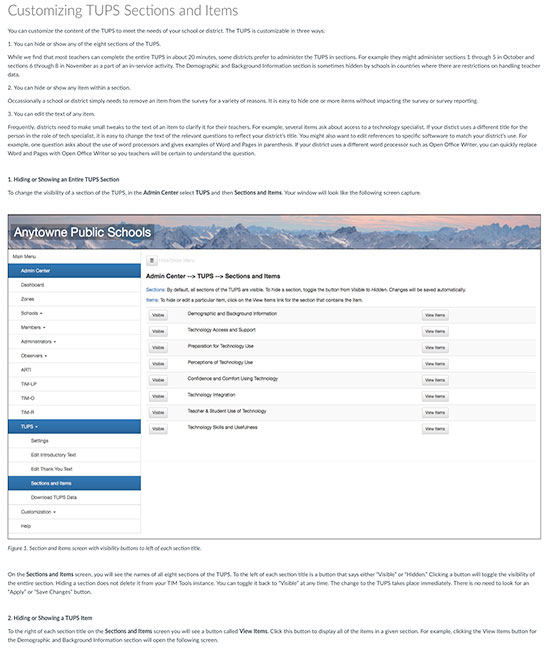 Sample pages from the TIM Tools Resource Center
The Resource Center can also be used for just-in-time support if you have a specific question after hours. Just use the table of contents to quickly jump to the section you need. We continue to update the Resource Center based on questions we receive in email or by phone, so it's very likely that you'll quickly find your answer if it's something that another district has had a question about.
We'll end this post with a list of all the topics you'll find in the Resource Center.
TIM Tools Administrative Center
Getting Started

Administrative Center Access
Administrative Center Dashboard
Managing Zones
Managing Schools

Customization

Active Applications
Home Page
Site Banner

Managing Members

Uploading Members
Profile Window
Changing Passwords
Managing Administrators
Managing Observers

Working with Data

Participation Overview
Downloading ARTI Data
Downloading TIM-LP Data
Downloading TIM-O Data
Downloading TIM-R Data
Downloading TUPS Data
TIM-O / TIM-LP / TIM-R 
Preparation

Managing TIM-O Observers and TIM-LP Reviewers

TIM-O

TIM-O: Beginning an Observation
TIM-O: Question-Based Method
TIM-O: Matrix-Based Method
TIM-O: Finishing an Observation
TIM-O: Print or Share an Observation With a Teacher
TIM-O: Editing Previous Observations
TIM-O Report Templates
Accessing School or District TIM-O Data

TIM-R

TIM-R
Accessing School or District TIM-R Data

TIM-LP

TIM-LP
Accessing School or District TIM-LP Date
TUPS
Opening and Closing the TUPS
TUPS Intro and Thank You Text
Customizing TUPS Sections and Items
Accessing School or District TUPS Data
TUPS Report Template
ARTI
Action Research Tool Overview
Accessing School or District ARTI Data
Report Tool
Report Tool Dashboard
Report List
Creating a New Report – Report Builder
Survey Tool
Creating a New Survey
Customizing a Library Survey
Viewing Survey Results
If you are not a current TIM Tools client and are interested in the Tools, you can visit our website, email us, or phone 813-974-1640.