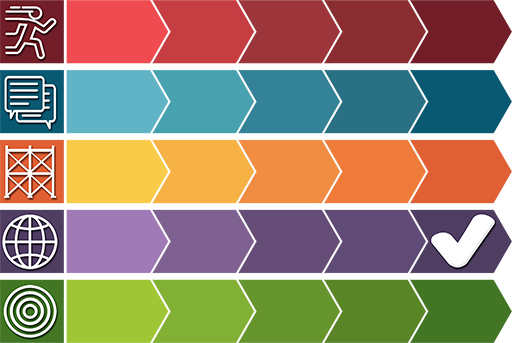 Authentic Learning, Transformation Level
Innovative use for higher order learning activities in a local or global context
Students. Students explore and extend the use of technology tools to participate in projects and higher order learning activities that have meaning outside of school. Students regularly engage in these types of activities that may have been impossible to achieve without technology.
Teacher. The teacher encourages innovative use of technology tools in higher order learning activities that support connections to the lives of the students and the world beyond the instructional setting.
Setting. The setting includes technology tools and online resources that allow for student engagement with the local or global communities. A variety of technology tools are available with robust access for all students simultaneously to information outside of the school and primary source materials.
Graphics representing the Authentic Transformation cell, the Authentic TIM levels, the TIM, and many other related resources are available from the TIM Graphics page in the Resources section.