TPACK is one of the best known frameworks for technology integration. It has its roots in work done in the 1980s by Lee Schulman who noted that is was not sufficient for teachers to know pedagogy and the content of their teaching area as two separate fields. To be successful, teachers also needed to understand the overlap of those two areas—the pedagogical practices specific to their intended subject area.
The adjacent diagram* shows the overlap of Pedagogical Knowledge (PK) and Content Knowledge (CK) as Pedagogical Content Knowledge (PCK).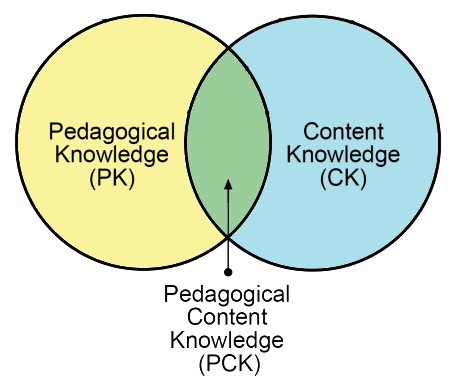 In the early 2000s, Matthew J. Koehler and Punya Mishra realized that teaching technology isolated from Pedagogical Knowledge and Content Knowledge was not effective. They found in their own teaching that bringing content, pedagogy, and technology together was a successful strategy. After a number of diagram revisions, in 2005 they published their familiar diagram of three overlapping circles that looked like this (after a few later tweaks).
The overlapping circles defined seven types of knowledge:
Technological Knowledge (TK)
Content Knowledge (CK)
Pedagogical Knowledge (PK)
Technological Content Knowledge (TCK)
Pedagogical Content Knowledge (PCK)
Technological Pedagogical Knowledge (TPK)
Technological Pedagogical Content Knowledge (TPCK)
Like the TPACK, the Technology Integration Matrix was also developed in the early 2000s and first published in 2005. Both models were a response to the needs of the education community at a time when technology was being widely adopted without adequate preparation. The creators of both models realized that the traditional technology PD offered in isolation from the classroom was not working. As developers of the TIM, we took a slightly different tack, however. After flirting a bit with a three-dimensional model that included content subject areas, we decided that the greatest need was at the intersection of pedagogy and technology — "Technological Pedagogical Knowledge" in the language of the TPACK. We therefore focused the TIM model on creating a deeper understanding of how to apply the most effective pedagogical principles to the use of technology.
The adjacent diagram* shows the overlap of Technical Knowledge and Pedagogical Knowledge.
Current users of the TPACK model will find that the TIM is a rich resource for unpacking aspects of the Technological Pedagogical Knowledge section of the TPACK. Current users of the TIM model will find that the TPACK is a valuable reminder to consider the importance of subject area knowledge when providing preservice instruction or professional development in technology integration. TIM users should also consult the TIM Instructional Planning Model as an additional reminder to consider curriculum demands and student needs when planning classroom lessons. Much is to be gained from a familiarity with both the TPACK and TIM models. The differences between the two models are entirely complementary.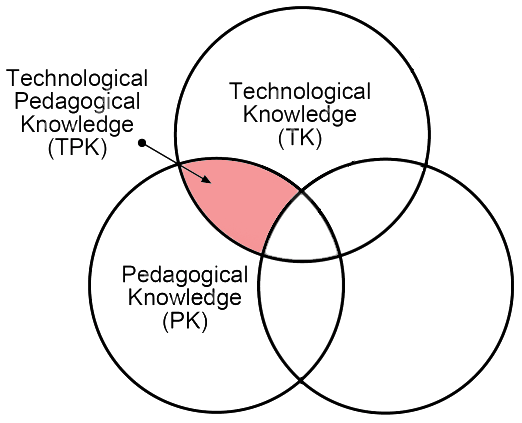 Roy Winkelman is a 40+ year veteran teacher of students from every level kindergarten through graduate school. As the former Director of FCIT, he began the Center's focus on providing students with rich content collections from which to build their understanding. When not glued to his keyboard, Dr. Winkelman can usually be found puttering around his tomato garden in Pittsburgh.
FCIT Newsletter
Each month FCIT publishes a newsletter with short articles on teaching and learning with technology, using digital content in the classroom, and technology integration. Subscribe today! The subscription form will open in a new window. When you have subscribed, you can close the new window to return to this page. You can also submit stories about TIM and TIM Tool use in your classroom, school, or district.